Chaffee's October Artist of the Month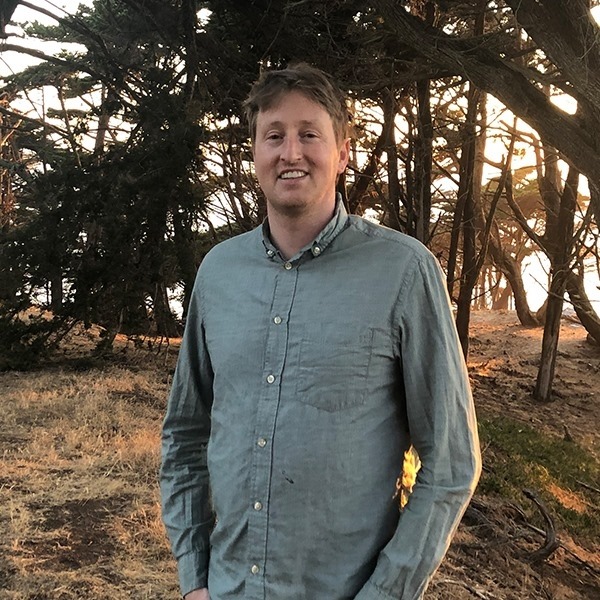 The painting has a spooky feel. There are skeletons, still shrouded in their earthly forms. The Flory's Plaza in West Rutland, a ghostly relic from another time. And a circle of girls beneath the moon. It's titled 'What Remains of the Dawn-Land,' by Vermont native Peter Wallis, and the painting was chosen from over 10,000 submissions to be part of an exhibit at the de Young Museum in San Francisco, which is running for the next three months.
Peter called it "a major milestone for my career," and that career that has its roots in Rutland, and the Chaffee.
"Some of my first memories were working with Mary Crowley when I was a little kid at Lincoln School," he said by phone recently. "And I ended up working with her at the Chaffee Art Center (when I was) the Education Director at the Chaffee about ten years ago."
"One of my favorite teachers was Fred Lauer, the art teacher at Rutland High School," he added. "He was really important to my creative growth. Had he not encouraged me and had a rigorous art class I probably wouldn't have headed into this career at all."
Currently based in the Bay Area, Peter is an 8th generation Vermonter, from a family that lived on a dairy farm in Wallingford. "A lot of my creative work revolves around growing up in Vermont," he said.
And this particular painting was inspired by a local urban legend.
The Eddy Brothers in Chittenden were famous a long time ago for the seances they held on their small farm, which drew people from all over the world. The property still exists today, more than 100 years later. When Peter, his sister, and a friend took a drive out there one night when he was in high school, just out of curiosity, what happened has stayed with him to this day.
"I did not believe in ghosts whatsoever before this," Peter said. "(But) we experienced this apparition appear, and create a fire. It was something that really shook us. We couldn't explain what was happening. It made me want to dig into the Eddy brothers more. This painting is really inspired by the Eddy brothers. A lot of my creative work for a long time was inspired by that experience."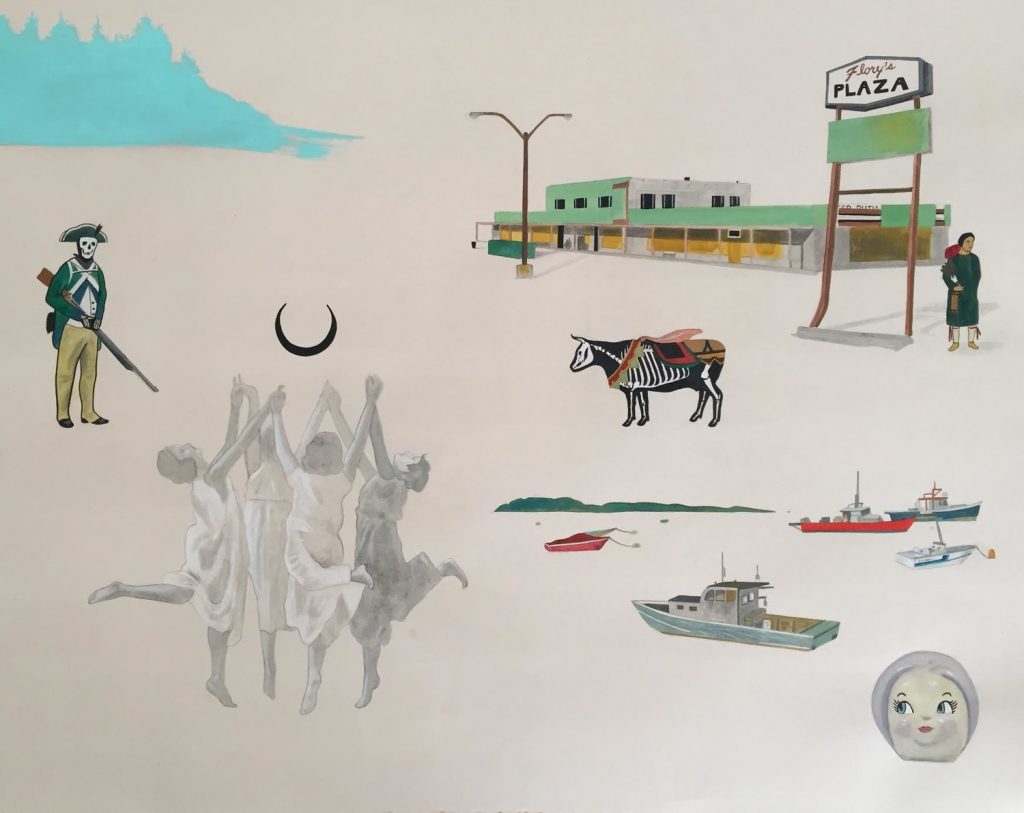 The painting is done in gouache, a mik-based paint, and Peter said his process works like this: "I do it all in pencil, then I do the underpainting, then I lay it all out in gouache. It's similar to watercolor, it's pretty forgiving."
Some of the other symbols in the painting have to do with the past and present of New England, and Rutland – "Who hasn't driven by Flory's a million times" – different eras coming together.
Peter reflected on its selection for the de Young exhibit, saying, "I think it's a really important time in my career, and if I think about why I'm an artist, Rutland has a lot to do with it."
"It was really at the Chaffee that I experienced such a rich art community in Vermont, in Rutland. I volunteered at the Chaffee when I was in high school and it was my first experience being around art and artists."
He left Rutland for art school in Maine, and came back to work at the Chaffee in 2010.
"That was really the springboard into my career. (Having) been education coordinator at Chaffee opened doors for me," he said.
"There's a lot of shoulders I'm standing on in the area," Peter said. "Mary Crowley, Fred Lauer and Fran Bull. I think Rutland is really integrated into all the creative work that I make in some way. It means a lot to be from there and that sense of place back at home really drives a lot of my work. The painting's about home."
To see Peter's painting and the entire exhibit at the deYoung Museum visit https://deyoung.famsf.org
To learn more about Peter Wallis' art visit www.peterwallis-art.com.
Reprint with permission only. Contact: [email protected]
---