Chaffee's November Artist of the Month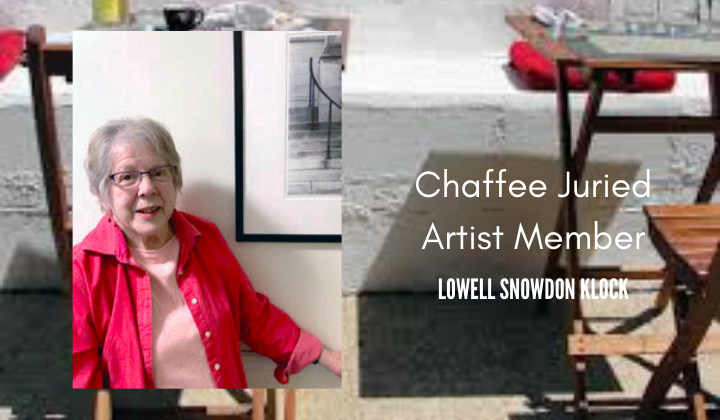 "I try to catch things when I can get them," photographer Lowell Snowdon Klock says.
A longtime Chaffee member, her photos catch the spirit of her subjects – like a courtyard in Italy with hanging laundry, or a series of old doors, some taken abroad. Whatever the subject of her lens, she has an uncanny knack for capturing life in inanimate objects.
"I love textures, contrasts and patterns— trees, worn paint, twisted iron, stone, odd angles, clouds, and light. I try to transform the ordinary into the extraordinary," she says in her artists' statement.
Lowell had an early interest in art that may have been part genetic – her mother was also an artist who painted and wrote an unpublished children's book. But when Lowell wanted to study art in college, her mother was worried about future job prospects and discouraged her. So Lowell studied history and became a teacher, pursuing art on the side.
Later when her husband went into the foreign service, they found themselves in far-off places like Turkey and Thailand, where Lowell's interest in photography bloomed. By the time they reached Paris, Lowell had decided she really wanted to do something with photography. She bought an Olympus camera and started taking "real pictures."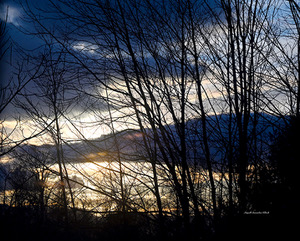 "I fell in love with that," she said. When they returned to the United States, she enrolled in a two-year course at a community college and earned a degree in photography.
Then during the 1990s, she started coming to Vermont during the summers and discovered the Chaffee.
"I joined the Chaffee then, Lynne DeBeer was the director, and she suggested that I have a show of my black and white prints," Lowell recalled. "So that was my first show and I'm not sure when it was, (around) '92, '94…"
She has been involved with the Chaffee ever since, including a tumultuous time years ago when it looked like the mansion might be sold.
"I worked a lot with other people on saving the Chaffee from being sold when Pat Hunter was president," she said. "I was on a committee that worked very hard to get members to join because at that point it was in the bylaws that the Chaffee was owned by the members. They had to choose whether to sell it or not and we got enough members to vote not to sell it. So that was pretty dramatic."
"I'm really proud to be a longtime Chaffee member," she said. "I'm glad I stuck with it through the years because it's really important to me. I think the Chaffee is headed in a good direction."
Photography has changed a lot over the years, and Lowell used to have a dark room in her early days in Vermont where she printed her own black and whites. A series of manipulated polaroids and exhibits of them grew from that period. But she made the switch to digital once good paper and printers became available. At home she uses photoshop and prints her own work on an Epson.
"I love it. I sit down and start playing with photographs. I've done a lot of different kinds of photography although right now I'm mainly doing this color work. I really like color in Vermont because there's so much of it."
"Things pop out at me," she said. "I don't have a set style or set subject I do all the time. It's always different."
Her work is available to buy through the Chaffee, the Brandon Artists Guild, or her Facebook page, or visit http://klockworksphotography.com/
Reprint with permission only. Contact: [email protected]

---