Chaffee's Artist of the Month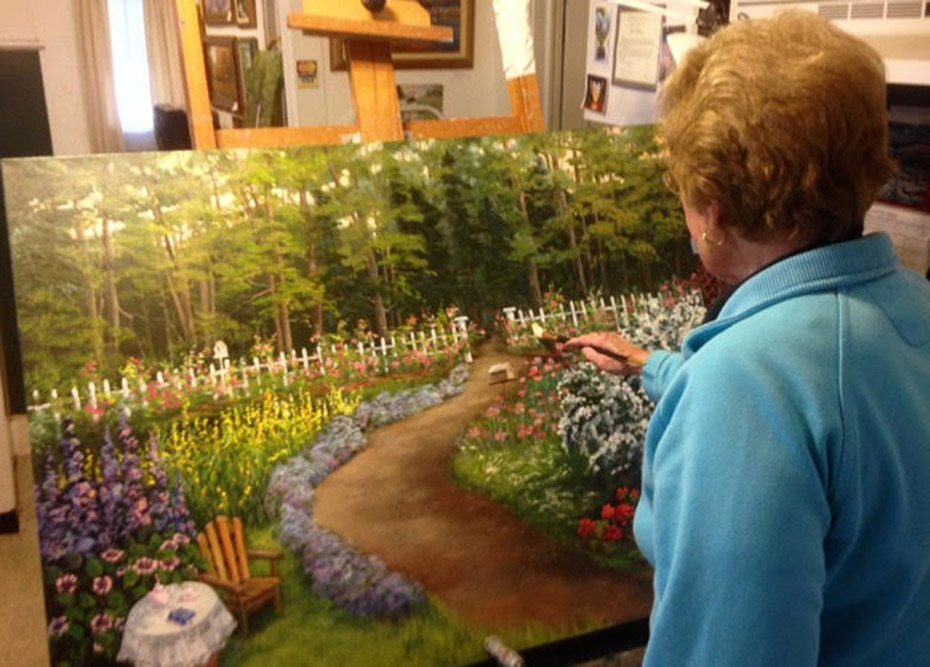 Artist Ann McFarren
The first thing you see when you walk in Ann McFarren's living room is a giant, stunning painting of an idyllic Vermont winter scene. Every inch is covered in snow, but it radiates warmth.
"I'm an oil painter first and foremost," she said. "That's my first love."
This year marks McFarren's 50th as an artist, ("after the first time I tried it I was hooked") a hobby she took up at age 33 that turned into a prolific career. Her work currently hangs in Washington D.C. at the Department of Agriculture, among many other places, and she's this month's featured artist.
A mother, grandmother, and Vermont native, she does about twelve art shows throughout New England in a given year, and teaches classes both from her home studio and at the Chaffee's Sip and Dip.
"It's exciting to watch a painting come to life," McFarren told me the first time we met, several years ago. "I usually build a story in my mind to portray whatever it is I'm feeling, so people can transport themselves to that place or time."
Her work seems to capture not just the physical aspects of a subject, but its spirit. A field full of wildflowers, barns and silos on picturesque roads, and sweeping valleys with mountain vistas are part of her incredible collection, which includes several diptychs – two individual paintings hung side by side which match at the seam to look like one big painting. One in particular depicts Wheelerville Road and Mendon Brook in the summer.

McFarren grew up in Fair Haven and went to Green Mountain College, met her husband while she was working at the candy counter at the old Woolworth's on Merchants Row, got married and moved to Rutland. Her career has taken her to art shows all over the northeast. "Painting has been my passion, truly," she said. "It's a huge part of my life. I'm slowing down but I'll probably still continue to teach as long as I can. It's been a journey and I've loved every minute of it."
Aside from some lessons she took one winter from Robert Frick, she has no formal training. She uses the downstairs five rooms of her house in Rutland for her business, a gallery, studio, and classrooms, where she teaches and paints.
She's had several exhibits at the Chaffee since she started painting in 1969 and still has her very first painting. You can currently see some of her work on display at the Chaffee, open Wednesday, Thursday and Friday from Noon to 5 p.m.; Saturday 11 a.m. to 3 p.m.; For more information call  802-775-0356, email [email protected], or stop in at 16 South Main Street.
Reprint with permission only. Contact: [email protected]
---