Chaffee Art Center presents 58th Annual Art in the Park Fall Foliage Festival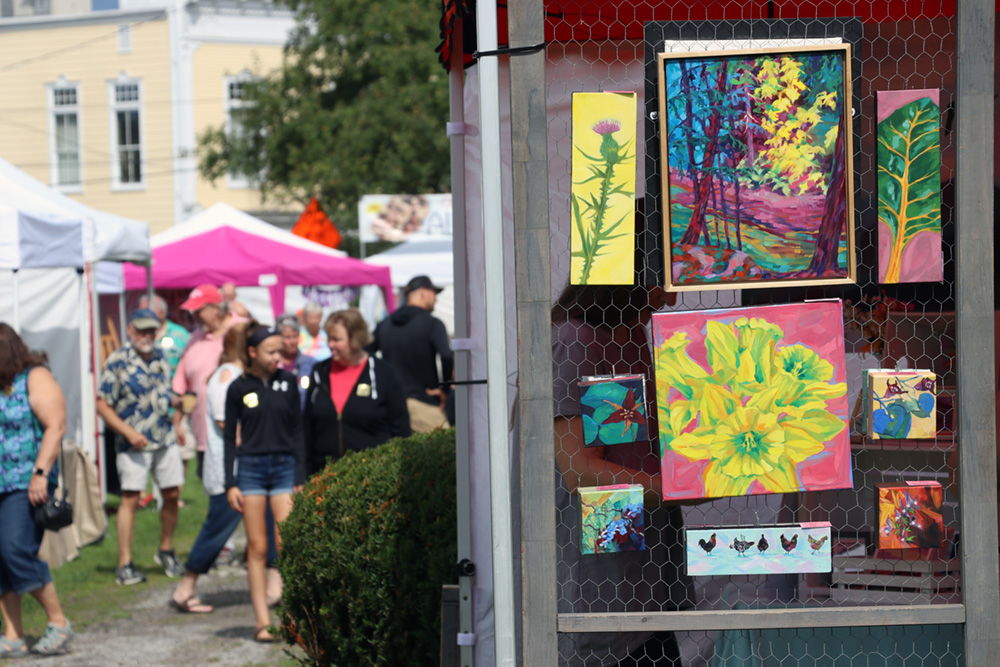 Rutland, Vermont—All are invited to attend the Chaffee Art Center's 58th Annual Art in the Park Fall Festival to be held on October 12 & 13 in Main Street Park at the Junction of Routes 4 & 7 in Rutland, Vermont. The show features juried fine artists, craftspeople, and specialty food producers. Rounding out the festival are food vendors, live music, kid's activities, face painting, a community art project, pet area, and live demonstrations. Hours are from 10am to 5pm Saturday and 10am to 4pm Sunday. A voluntary donation is appreciated.
All types of handcrafts and fine art will be on exhibit and available for purchase at the outdoor festival. The visual arts are represented by a selection of oil paintings, watercolors, acrylics, mixed media, and photographs. A full array of crafts will be featured: pottery; floral wreaths, arrangements and wall baskets; health & body products; variety of fiber including clothing and quilted items; jewelry; glass items; garden ornaments; furniture; metal sculptures; glass solar lights; handwoven baskets; hand lettered apparel and prints; wooden bowls, platters and cutting boards, birdhouses, signs, pens/pencils, door harps and ornaments; plus so much more. Specialty food producers will tempt your tastebuds with samples of fudge, dessert sauces, maple treats, Greek products, wine, and spirits. Demonstrations of works in progress will be held throughout the weekend.
Food concessions will be selling their delicious food both days with wraps, sandwiches, smoothies, soup, chili, assorted desserts, fresh baked bread, and so much more! There will also be specialty foods to include fudge; cinnamon roasted nuts; kettle korn; Vermont maple products and cotton candy.
Opening the festival Saturday with live music will be Aaron Audet. Both days, MOOSE CROSSING will entertain from Noon to 2pm followed on Saturday by the talents of Alison Fay Brown. On Sunday morning, attendees will get a treat with the musical stylings of Nikki Adams, and Bethany Conner will perform at 2pm.
Free kid's activities will be held under the Chaffee's main tent throughout the weekend to include spin art, with block building, hula hoop and bubble area. Art projects provided by Wonderfeet Kid's Museum. Plus, a community art project will be on display and ready for attendees to create and enjoy.
Back again this year are Chaffee Bucks. Entry into the drawings are free to attendees, and will be held hourly throughout each day under the main tent. Winners can spend the Chaffee Bucks during the festival weekend at any booth in the park.
Art in the Park is Vermont's oldest continuing arts tradition, and the Chaffee Art Center's major fund-raising event, occurring twice yearly in mid-summer and autumn. The festival is sponsored by: Southside Steakhouse, Heritage Family Credit Union, Stewart's Shops, and Killington Ltd. In-kind sponsors include: Casella Waste Management, Rutland Recreation and Parks Department, Hull Maynard Hersey Insurance, Dellveneri's Bakery, and Mr. Twitter's Garden & Gift Emporium.
We are still accepting exhibitors up until this show. Volunteers are always needed. For information and application visit www.chaffeeartcenter.org, or call (802)775-0356.
Sherri Birkheimer Rooker, Chaffee Art Center
Cell 802.353.6605; Phone 802.775.0356
www.chaffeeartcenter.org
Hours: Wednesday through Friday Noon to 5pm; Saturday 11am to 3pm

---