Going Up the Country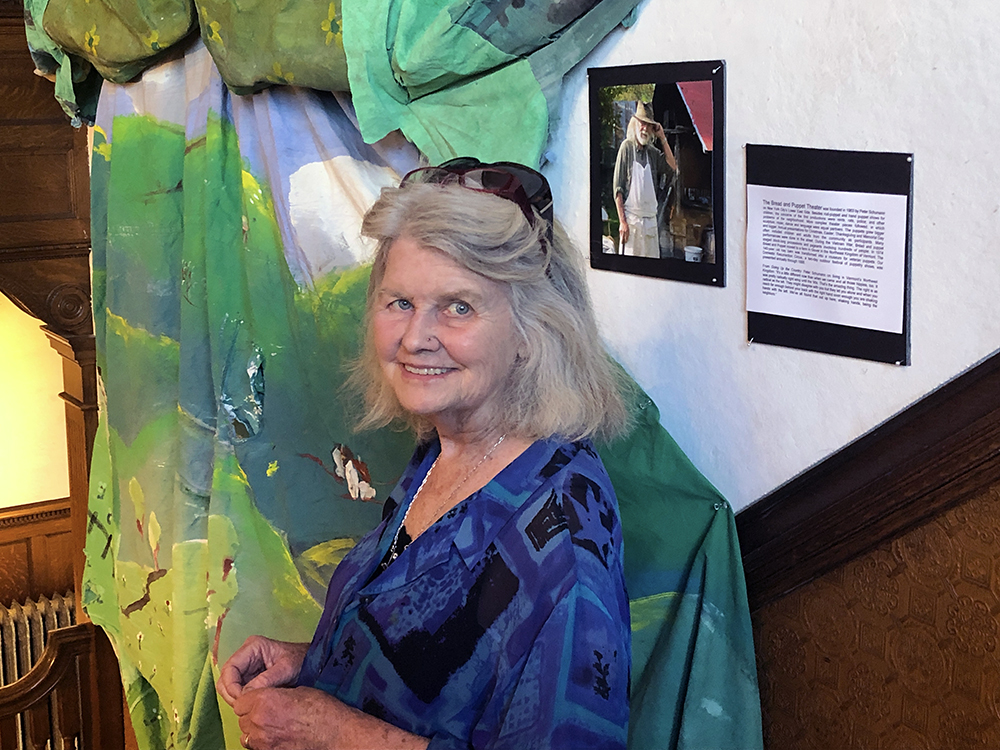 The Chaffee Art Center in collaboration with author Yvonne Daley invites the community to celebrate the art, craft, music, film, food and activism of the 1960s with a new exhibit, "Going Up the Country." The opening reception will be held on the Chaffee's main floor Sept. 20 from 5 – 8 p.m. Juried artist members' works will be showcased in the second floor galleries.
There is no charge for admittance, and refreshments will be provided. Join us to mingle with writer, Yvonne Daley, film makers, artists and the community, enjoy live music, delicious finger foods, punch and wine.
The exhibit, which will be on display from Sept. 20 – Nov. 1, will include woodcut prints by Mary Azarian, oil paintings by Kathleen Kolb; paintings and sculptures from Susan and Patrick Farrow; film and discussions from two Vermont film makers, Jay Craven and John Douglas; Daley's painted, embroidered and silk-screened clothing; pottery from Susan Leader and Andy Snyder; posters and puppets from Bread and Puppet Theatre; memorabilia from the former Back Home Café; and educational material from the former Whipple Hollow Cannery in West Rutland.
A schedule of Friday night performances and discussions will include music by Bruce White, the Saltash Serenaders, and Senator Dick McCormack. White will perform at the opening reception Friday Sept. 20 during which Daley will read briefly from her book and discuss the creativity that was borne during the counterculture movement in Vermont. Her book, Going Up the Country, will be available for sale. The free event is open to the public with donations welcomed for the Chaffee Art Center.
Here is the list of events:
Sept. 20: 5 – 8 p.m.: Art exhibit opening, book reading and discussion, music by Bruce White;
Sept. 27: 6:30 – 8:30 p.m.: Artist and film-maker John Douglas discusses his early career and shows clips from his films made during the Vietnam War (with the late Vermont State Poet Grace Paley) and the black freedom movement in Mississippi;
Oct. 4: 6: 30 – 8:30 p.m.: Senator Dick McCormack, D-Windsor on guitar, including his iconic song, "When the Hippies Moved Next Door;" Chris Anderson discusses the former Whipple Hollow Cannery in West Rutland; Andy Snyder discusses the early days of the Rutland County Farmers' market.
Oct 18: 6:30 – 8:30 p.m.: Victoria Arthur, Paul Sgalia, Steve Spensley of the Saltash Serenaders entertain and filmmaker Jay Craven will discuss his peace work during the Vietnam War and show his film on Vermont folk artist Gayleen Aiken;
Oct. 25: 6:30 – 8:30 p.m.: Music, spoken word and poetry with Verandah Porche and Patty Carpenter; slideshow and discussion with Vermont artist Kathleen Kolb about art and nature.
As we celebrate 58 years as an art center in the Rutland Community, we also invite you to join as an artist, single or family member to help the Chaffee to continue to inspire and cultivate creativity, while positively impacting the vitality of our community through the arts.
Visit the Chaffee during open hours to experience the beauty of the historic building and the wonderful works of art throughout. While here, picture your next event, bridal shower, wedding, meeting or retreat being held in our beautiful 1890's mansion, fondly known by its first owners as Sunny Gables. Hours: Wednesday, Thursday and Friday Noon to 5pm; Saturday 11am to 3pm; Extended hours for classes and events.  For information:  802.775.0356, [email protected], or stop in to the Chaffee Art Center at 16 South Main Street in Rutland, VT. 
---