Artist of the Month: Rosalind Daniels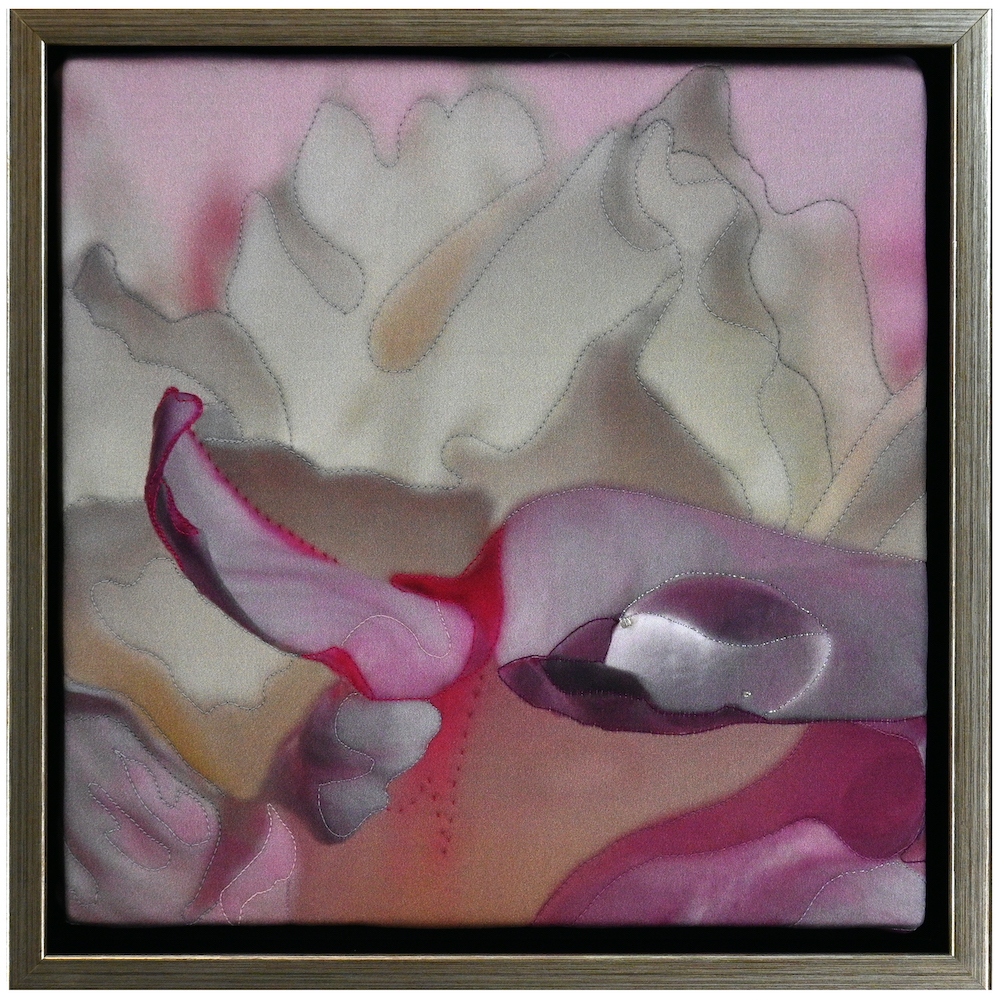 Behind the delicate colors and gorgeous composition of Rosalind Daniels' abstract fiber and photo pieces is a long history with quilting, a love and playfulness with color and texture, and most recently, the irresistible charm of peonies.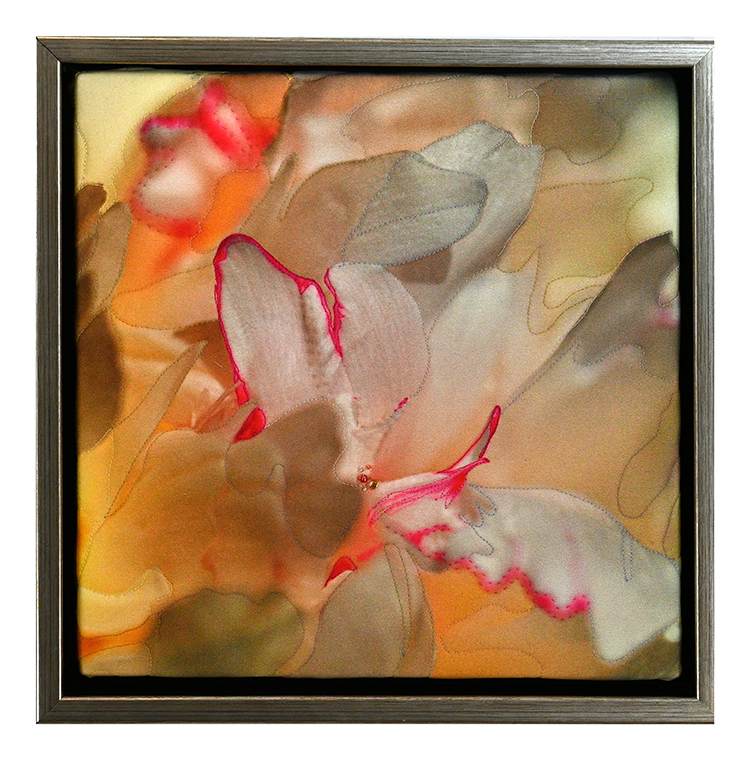 'Peonies from my Garden,' a collection of five quilted photos, are on display at the Chaffee Art Center through May. The peonies and the quilts are beautiful on their own but the combination is something special and unique.
Rosalind Daniels professionally, Roz to those who know her, grew up in Richmond, Virginia admiring her mother who was a home economics teacher, and her aunts who traveled the world. Those two interests came together when, after working as a Mathematician she joined the Peace Corps to teach math in the South Pacific, where she was first introduced to splashy tropical fabrics. Later, when she and her husband were in Pakistan for his work, and she met a woman from the United States who taught her the basics of quilting.
"She made a quilt once a week. People gathered at her house and we started with the traditional cut patterns out of cardboard and sewed it by hand and I just loved it from the get-go."
It was in Vermont that she began to combine the photos she took with the fabrics she loved.
"My work usually begins with abstract graphic fabric that makes me smile," she says in her artist statement. "My choice of this fabric grows from my memory of the op art designs of the 1970s, from the joy of vibrant colors worn in exuberant combinations in the tropical countries where I have lived. My goal is to honor this fabric by joining it in conversation with other textiles. I love the feel of composing with textiles and the struggle to find some elegance of structure while working with vibrant fabrics."
"I love to sit in the garden and photograph peonies up close," she said in a recent phone conversation. "And during the winter it's so white — to be sewing on those peonies is just so wonderful."
"I sew through three layers and that's what gives it the texture," she explained. Some of it she does by machine, which gives a solid line, and some of it is done by hand, creating a softer line.
"I like big, bright, large printed fabric, so I cut those into big pieces because if you cut those into little pieces and sew them up you lose the fabric."
"I just love strong bright color," she said and noted that the peonies exhibit at the Chaffee is "much softer work than I usually do."
Maybe 20 years ago an ad in Seven Days caught her eye, announcing the Chaffee's annual photography exhibit.
"I sent three photos to the Chaffee and they accepted them into the exhibit and said would you like to be a juried artist member," she recalled.
Another quilt she did in more muted colors than she usually uses called 'Late Winter 2' was made during a winter several years ago that brought tons of snow with huge drifts everywhere. It's currently hanging in the American Embassy in Djibouti through the State Department's Art in Embassies program. The Ambassador chose this piece to remind him of New England as he began his service in Africa.
And a piece of hers called 'Bucket Lips' is a striking, fun, vibrant red pop of color and shapes. It is a whole cloth quilt from an original photo she took at Harry's Hardware in Cabot. It received Best Art Quilt and an award of exceptional merit at the 2021 Vermont Quilt Festival.
But the Chaffee was the first place that she was a juried artist member. "So I have a special place in my heart for the Chaffee."
---