Art in the Park chalks out new territory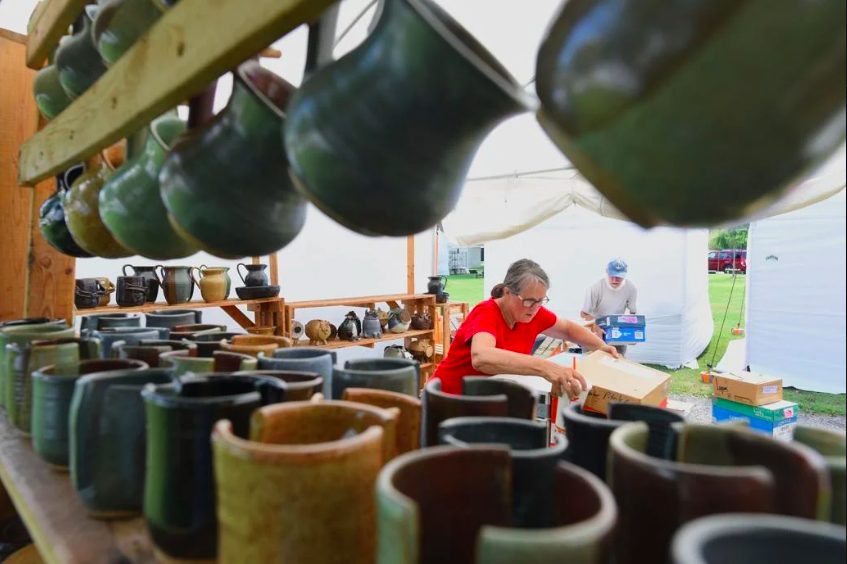 written by Gordon Dritschilo
photograph by Jon Olender
Reproduced from the Rutland Herald, Aug. 9, 2023, Art in the Park chalks out new territory
Organizers are inviting visitors to Art in the Park to make some art in the park.
The annual fundraiser for the Chaffee Art Center kicks off at 10 a.m. Saturday in Main Street Park. Chaffee Executive Directory Sherri Birkheimer Rooker said they expect more than 60 vendors and the usual assortment of food and musical entertainment.
New this year, in what Birkheimer Rooker said organizers plan to make an annual event, is a chalk-art contest. Visitors who sign up can make chalk drawings on the sidewalk around the park from 10 a.m. to 4 p.m. Saturday, with winners announced at 5 p.m. The designs will remain on display Sunday.
"As most things do, I think it'll take a little time to catch on," Birkheimer Rooker said. "I thought it would be fun for people to do that and for others to see it. I got the idea from my son, who saw it in Florida, where he is. I think it'll grow each year."
Birkheimer Rooker said she believed the vendor count was up slightly from last year.
"The park is going to look really good, look full, which is fun," she said. "We have a lot of new people this year, which is exciting."
Among the new offerings, Birkheimer Rooker said, are products made with pour painting, a resurgent technique for acrylics.
"People have been doing it for a long time, but it seems to be really popular right now," she said. "We have someone doing jewelry that's pour painted."
Birkheimer Rooker said they have seen a jump in wood-product vendors, with offerings ranging from cutting and charcuterie boards to hand-painted barn quilts — wooden sheets bearing designs like those seen on the sides of barns.
"You can put them on your barn or you can put them on your house or you can put them on your garage," she said.
A new food vendor will offer raw honey products as well as jellies and jams with "hand-gathered" ingredients.
Art in the Park runs from 10 a.m. to 5 p.m. Saturday and 10 a.m. to 4 p.m. Sunday.
gordon.dritschilo
@rutlandherald.com
---