Chaffee blossoms like it's spring: 'Art in the Garden: Color Me Happy'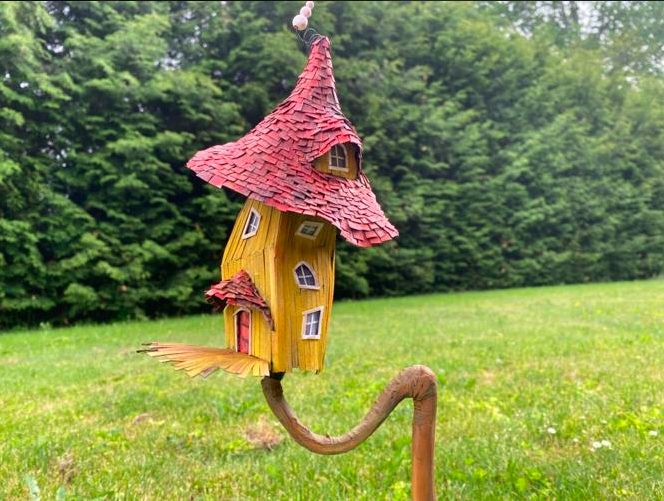 From the Rutland Herald, Sept. 2, 2023
Read original article here.
There's a deep curve in a narrow piece of wood, its shape looks like a flower stem grown awry. But instead of a flower, a bent house sits on top, with a roof like a pointy hat, tipped to one side. It's one in a series of miniature treehouse sculptures that could be a grown-up version of Dr. Seuss's neighborhood.
"These pieces of driftwood just have a shape that I have to do something with," said artist Jim Boughton who created these sculptures from cereal boxes, toilet paper rolls cut into tiny precise squares and glued together to create a thatched roof. He made windows from Scotch tape and mixed it all together with pieces from real lilies and bee balm.
"It all it cost probably less than three dollars each to make because it's a little bit of paint and everything else is found objects," Boughton said.
He's one of the artists featured at the Chaffee Art Center's latest exhibit, "Art in the Garden: Color Me Happy," a kaleidoscopic, inspiring and definitely happy garden-themed exhibit to mark the end of summer, remaining on exhibit through Sept. 22.
Artist Arlene O'Connor has been a Chaffee member for almost 50 years. She's the artist of the month and has a wall in one of the gallery rooms full of her signature paintings like sunflowers suspended in a purple cloud, and a pile of pumpkins and mums beneath a fall sky. She works in watercolor, oil and pastel, and often starts with a photo.
"I keep a camera handy as a rule," she said. "I usually carry a sketch book and always have pencils or pens or watercolors. I paint most anything. Anything that catches my eye — a gentlemen sitting on a marble block reading his newspaper with his dog at his feet — I'll do just about anything. I don't dwell on any one subject."
"Paintings take weeks, months, years sometimes," she said. "I'm in the elderly stage of life so I only have so much energy to spare so I paint when I feel like it. You have to really feel it to paint it."
O'Connor's watercolor work has won prizes in Pennsylvania, where she was born and raised. "As a kid, if I got a box of Crayola crayons and a coloring book or just plain paper, I was excited," she said.
Upstairs, artist member Heather Wilson has a feature gallery with drawings of flowers, female figures, and pinup girls. She tried something new, layering on top of images haiku poems, which she wrote during a transitional period in her life. A contrast of bold color and sparse but powerful words.
"I started writing these haikus a few years ago (when) I went through a divorce," Wilson said. "I held on to them and retooled some of them, and they really seemed to go with (the drawings) I had."
"This exhibit really represents the past few years where I went through a lot of changes," she said. "It started out being a really rough time and then I found my way through it and out of it and to a very happy place — and I hope other people can feel that, too."
The remainder of the Chaffee mansion is filled with work by artist members, including a series of dollhouse-size realistic fairy houses by Randy Pratico, who many will know from his years selling one-of-a-kind birdhouses at Art in the Park.
The artwork is complemented by paper, silk and real flowers draped from door frames, tucked in corners, and everywhere in between, making the mansion itself the garden in "Art in the Garden."
---