59th Annual Art in the Park Summer Festival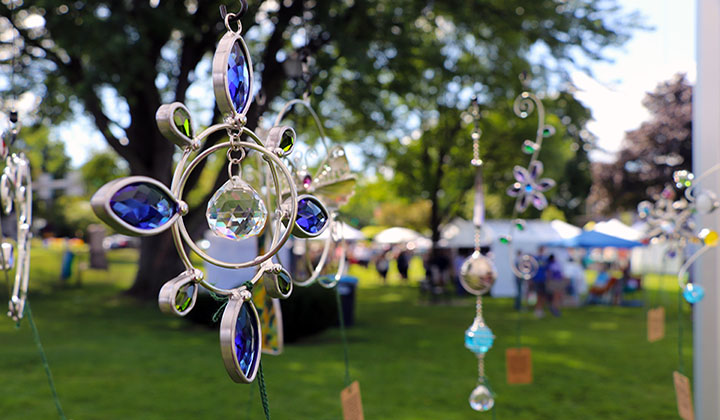 Photos by Hope Rogers
Chaffee Art Center's 59th Annual Art in the Park Summer Festival will take place August 8 & 9 in Rutland's Main Street Park at the Junction of Routes 4 & 7. Juried fine artists, craftspeople, and specialty food producers will be featured. Rounding out the festival are food vendors, live music, and demonstrations of works in progress held throughout the weekend. New hours: Saturday 11am to 7pm and Sunday 11am to 4pm. There will be a few changes this year to ensure a safe and successful event as noted below. A voluntary donation is appreciated.
We invite everyone to visit this fun event. Attendees will enjoy the variety of stunning and unique handcrafts and fine art that will be on exhibit and available for purchase at the outdoor festival. The visual arts are represented by a selection of oil paintings, watercolors, acrylics, and photographs. A full array of crafts will be featured: fiber items such as shawls, scarves, wraps, quilted items, children's wearables; hand painted glass wear and stained glass; variety of jewelry; wooden furniture, bowls, and mirrors: aromatherapy and herbal products; hand lettered cards, prints, apparel and stickers; and more!
There will be food concessions selling their delicious food both days to include: Yellow Deli with cranberry cashew salad, homemade veggie burger, assorted sandwiches (Deli Rose, Green Mountain Club, Buffalo Rancher), fresh green drink, strawberry smoothie, homemade teas and goodies. Rollin Rooster will have a full menu of delicious chicken items, with vegetarian options such as sweet potato & white bean burger and green beans with slaw & waffle fries. Specialty food producers will tempt your taste buds with samples of fudge, kettle corn, maple popcorn, maple cream and candy.
Opening the festival with live music on Saturday and Sunday will be MOOSE CROSSING! Dirty Red Hearts will also perform on both days, along with other musical groups.

Back again this year are Chaffee Bucks. Entry into the drawings are free to attendees, and will be held hourly throughout each day under the main tent in the center of the park. Winners can spend the Chaffee Bucks during the festival weekend at any booth in the park.
Art in the Park…pandemic style! will look a bit different. We hope that everyone is as happy as we are to be able to hold the event, and bear with us with the necessary procedures.
• Currently, the limit is 150 people in Main Street Park at a time (not including volunteers, staff, or exhibitors).
• There will be one entrance and one exit in communication with each other, both with hand sanitizing station.
• Booths will be at least 6 feet apart.
• Arrows will direct visitors on one-way flow.
• Masks will be required to be worn by everyone attending the Festival including but not limited to exhibitors, volunteers, staff and the public.
• No kids activities or public portable toilets will be offered for the August Event.
• Vendors will be offering food, but without seating to encourage attendees to move through the festival.
• Musical performers will be in the gazebo which will be roped off.
• Dogs must be on leashes and practice social distancing.

Additions for August:
Curbside pick-up will be offered for those not comfortable attending by purchasing from a specific exhibitor on their website ahead of time. See list of current exhibitors.
We are planning to offer a Silent Auction online as well. There will be a link on our website to bid on handmade art and crafts.
VOLUNTEERS are very much needed to help during the event from set-up on Friday to gates on Saturday and Sunday. Please send an email to sign up, or call 802.775.0356.

Art in the Park is Vermont's oldest continuing arts tradition, and the Chaffee Art Center's major fund-raising event, occurring twice yearly in mid-summer and autumn. The festival is sponsored by: Stewart's Shops.
Media sponsor: 101.5 WEXP. In-kind sponsors include: Casella Waste Management, Rutland Recreation and Parks Department, Hull Maynard Hersey Insurance, and Mr. Twitter's Garden & Gift Emporium.
Starting July 31st will be the Annual Student Exhibit and Amateur Photo Contest. Also featured will be CCV student artists. Stop in during open hours Thursdays and Fridays from Noon to 4pm. Chaffee Art Center, 16 South Main Street, Rutland, VT.
Contact: www.chaffeeartcenter.org; [email protected]; 802.775.0356.
---