22 Questions with Sandra Gartner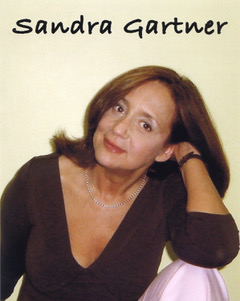 1. Name: Sandra Stillman Gartner aka Sandra Gartner
2. Age: NA … because I'm an actor and want to leave that open for interpretation
3. Hometown: Born in Glens Falls, New York … lived, studied and worked in Boston, Mass., Washington, DC and New York City. Now reside in Rutland, Vermont
4. How would you describe yourself in three words? Compassionate, Creative and Dependable
5. What's something not a lot of people know about you? I wrote an article about the Mrs. America Vermont/New Hampshire by entering the pageant and was awarded 2nd Place for the contest.
6. How do you start your day? Bathroom, Newspaper, E-mail and messages, Iced Coffee
7. What's the most adventurous thing you've done in your life? Climbing a water tower at sunrise in Ashkelon, Israel (a few miles from the Gaza Strip) with a friend of mine. She got scared and couldn't climb down and I had to find someone to help us.
8. What's your favorite food? Ice Cream
9. Do you have a day job? Co-producing Director of Vermont Actors' Repertory Theatre and writer for "Rutland Magazine" and other periodicals
10. What medium do you work in? Theatre, Film, Writing and Producing
11. Why this medium? My two artistic passions have always been acting and writing
12. What inspired you / how did it start? I had my first acting role as a lemon drop under a toadstool when I was in kindergarten. When I was eight years old I started the Webster Avenue Gazette, named after the street I grew up on.
13. Do you have a process for creating? For writing, I always begin with an opening that will capture the reader. Usually it's an anecdote. I am also very aware of transitions and following the natural flow of the story. In acting, I read the script several times, underline my part, look for the clues that lead to the next thought or sentence. Then I literally memorize it line by line, and go back and start over again until I have learned my entire part.
14. When are you the most inspired / what's your favorite time of day to work? I like to work mid-morning before my regular day begins. However, I have learned to be flexible and work when I can find a solid chunk of time when I won't be disturbed.
15. Which artists inspire you? Meryl Streep is my favorite actor. I was on her property when I was working on a film. Backing down her driveway in my car, I hit a rock. Later on I found out it was a sculpture her husband Don Gummer had given Meryl for their anniversary.
16. What do you listen to when you work? I don't listen to music when I work. I need to be in my own space in silence.
17. What are your thoughts on being an artist in Rutland? When I lived and worked in NYC, you could walk out your door and find hundreds of opportunities to choose from. In Vermont, you have to be eclectic, network and be willing to travel for work.
18. What's your earliest memory of making art in Rutland? My husband Allen and I divided our time between NYC and Rutland for the first six years of our marriage. When we moved to Vermont, one of the first shows I did was "You're A Good Man Charlie Brown" produced by the Proctor Players. I played Lucy and my husband played Linus.
19. Why do you think artists are attracted to Rutland? Vermont is a very welcoming state to artists and has a large population of creative people in all genres. It's a great place to network and most of the available projects are varied, challenging and fun.
20. Which arts organizations in town are you involved with and how has it impacted you? Vermont Actors' Repertory Theatre has always been the major basis for my theatrical endeavors. However, I have also worked with Marble Valley Players and Inn One Theatrics and other companies throughout the state and across the border. The other organizations that have had a positive impact on my artistic life are: Crossroads Arts Council, Trust Us Lovers Film Society, the Paramount Theatre and the Chaffee Center for the Arts.
21. What's your favorite art exhibit/project you've seen in Rutland? The one I did with my writing partner and friend Ann Buffum which first appeared at the Brick Box Art Gallery. It was called "To Life! A Celebration of Vermont Jewish Women" and featured large scale panels with archival and colored photographs of the women who were interviewed, including quotes from the book we wrote to accompany the traveling exhibit. It also included art work of all kinds from Jewish Vermont artists across the state.
22. What would you like to see for the future of the arts in Rutland? Once Covid- 19 is being managed, I hope all the groups will be able to work together and network constructively. It would be good if we had open communication so we don't conflict with the dates of our performances and commit to helping each other support and promote each other's work.
Click to view all the "22 Questions With" artists. Check back regularly for more!
---