The Art of Halves and Half Knots: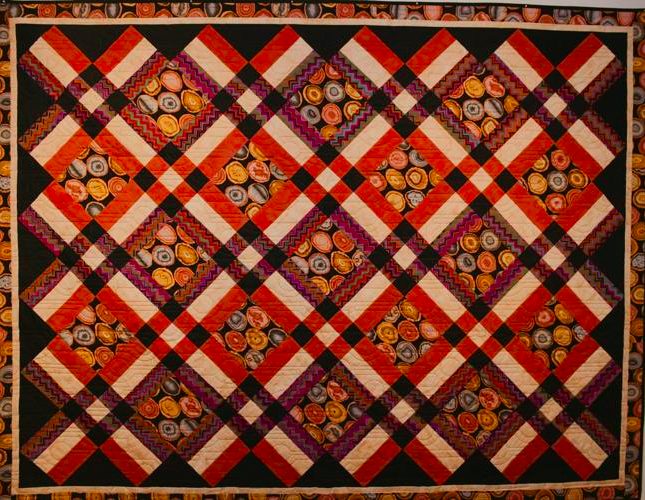 By Janelle Faignant Arts Correspondent
Oct 1, 2022
One of the pieces currently hanging in the Chaffee Art Center is aptly named "Remnants" — stitched together pieces of leftover fabric that hint at having had a previous life. One looks like the edge of a doily, next to a yellow swatch with a child-like quality, and a peacock blue scrap on a backdrop of something like netting, catching it all.
"During the pandemic, as my world shut down to museum and gallery visiting opportunities, I left my painting practice and turned to stitchery," said the artist, Sarah Ashe, in her artist statement. "Creating with fabric and sewing in colorful stitch marks while holding the fabric in my hands, provided a comfort and intimacy to my art-making that I needed."

Ashe is one of the artists featured in the Chaffee's current exhibit "The Art of Halves and Half Knots, A Textile Arts Exhibit," which is up through Oct. 22. Last weekend, jazzy music played softly in the background at the mansion while a dozen or more people checked out the show, which is primarily textile arts such as quilting, felting, embroidery and some eye-catching mixed-media collages, along with some drawings and paintings.
A felt bunny and chipmunk with expressive eyes are part of Helen Dillon's charming felt animals with the heading "Felt Frolics" — using a medium that's a departure for the longtime printmaker but equally engaging.
"I recently took up doing felted animals," Dillon said. "Using a needle, you compress the wool into the shapes that you want. It's fun for me because I don't need lots of space to do it."
A simple overlay of tulle on the stamp of an orange autumn leaf gives Donna Ciobanu's "Leaves #4" in ink and fabric, a new feel.
"I am an ex-Southern California artist relocated to Vermont a few years ago," says Ciobanu, who lives in Fair Haven, in her artist statement. "Most of my paintings are mixed acrylic/oil. Reinterpreting a landscape through vibrant color and intensity and capturing the essence of a memory and mood is of utmost importance to me."
"Getting inspired by nature is the main idea in my art," Ciobanu explains. "I try to keep fluid and try new techniques, be influenced by new moods and create new objects, whether it's in paint, fiber, glass or ceramic. I'd fancy myself as being categorized as somebody who experimented with new techniques in her art continuously and learned as she created."
In the front gallery, Betty Johannesen's "Framed Wall Hanging" looks like a painting from a distance, but up close you can see what looks like an angel with a flute under a tree, its sound echoing in color in the sky all around, in woven wool.
There are pieces by familiar Chaffee artist members like Jen Rondinone whose whimsical series of various flora in oil on small canvases are hung with braids and strung from small pieces of wood. In the stairwell, one foliage-turned tree blazes like a beacon in a wood clearing in Evie Towsley's "Birchway" in acrylic.
And Della Snyder Thompson's rich fabric collage titled "White Pearls" suggests a meeting place of childhood and adulthood, mixing a cutout of a doll with a fur hand muff surrounded by lace and pearls.
Thompson, from Mount Holly, is a freelance artist who has been creating for more than 30 years. Her specialty is pastel paintings, but she recently took up collage.
"I usually select the frame first," she said. "And then I have different objects that I've found and start arranging the material and put it all together with mod podge or glue."
"There's no real process — it's just having the objects and materials, things I've collected along the way I put together until it looks like a pleasing design," Snyder added. "Sometimes things you create, they just kind of happen."
janellefaignant @icloud.com
---