Fall Art in the Park, 2021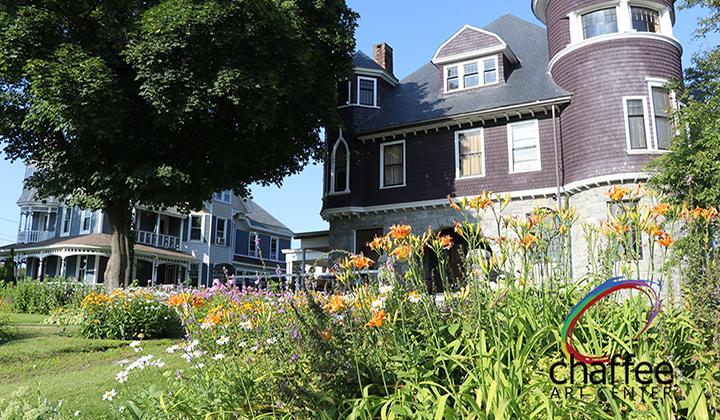 Rutland, VT…Chaffee Art Center's 60th Annual Art in the Park Fall Foliage Festival will be held on October 9 & 10 in Main Street Park at the Junction of Routes 4 & 7 in Rutland, Vermont. The show features juried fine artists, craftspeople, and specialty food producers. Rounding out the festival are food vendors, live music, kid's activities, and live demonstrations. Hours are from 10am to 5pm Saturday and 10am to 4pm Sunday. A voluntary donation is appreciated.
We invite everyone to visit this fun event. There will be a special cake cutting to celebrate the Chaffee Art Center and Art in the Park's 60th Anniversary on Saturday at 3pm! Attendees will enjoy the variety of unique handcrafts and fine art that will be on exhibit and available for purchase at the outdoor festival. The visual arts are represented by a selection of oil paintings, watercolors, acrylics, and photographs. A full array of crafts will be featured: fiber items such as shawls, scarves, wraps, quilted items, children's wearables; hand painted glass wear and stained glass; variety of jewelry; metal garden ornaments, wooden furniture, bowls, lamps, cutting boards, and mirrors: aromatherapy and herbal products; hand lettered cards, prints, apparel and stickers; and more!
There will be food concessions selling their delicious food both days to include Yellow Deli and Rollin Rooster. Also, for the sweet tooth there will be cotton candy, ice cream and baked goods from Fiona's Sweets & Tweets. Free kid's activities will be held under the Chaffee's main tent throughout the weekend. Art projects will be provided by Wonderfeet Kid's Museum. Live music will be performed all day on Saturday and Sunday featuring Nikki Adams to start off both days, followed by Plumb Bobs and Bethany Conner on Saturday, with Marcos Levy and Melissa D on Sunday.
Back again this year are Chaffee Bucks that will be given out hourly at the gates. Winners can spend the Chaffee Bucks during the festival weekend at any booth in the park.
VOLUNTEERS are very much needed to help during the event from set-up on Friday to gates on Saturday and Sunday. Please send an email to [email protected] to sign up, or call 802.775.0356.
Art in the Park is Vermont's oldest continuing arts tradition, and the Chaffee Art Center's major fund-raising event, occurring twice yearly in mid-summer and autumn. The festival is sponsored by: Price Chopper, Killington LTD, Rutland Regional Medical Center. In-kind sponsors include: Casella Waste Management, Rutland Recreation and Parks Department, Hull Maynard Hersey Insurance, R. Hulett Trucking, Tops Market, and Wonderfeet.
Stop in during open hours to enjoy our new Exhibit, Rutland County Audubon Society NATURE REVEALED, A WILDLIFE ART SHOW as well as solo features by Chaffee artist members: Silent Spring Raku Pottery Series by Steve Halford and Carved Bird Series by Christine Townsend.
Chaffee artist members also have work on display and for sale in the upstairs galleries, as well as in the Gallery Shoppe that is filled with handmade treasures and gift ideas for any occasion, or even for yourself! This exhibit will be up until October 29th. Hours Wednesday through Friday from Noon to 4pm, Saturday 10am to 2pm. Chaffee Art Center, 16 South Main Street, Rutland, VT. Contact: www.chaffeeartcenter.org; [email protected]; 802.775.0356.
---