Chaffee's Artist of the Month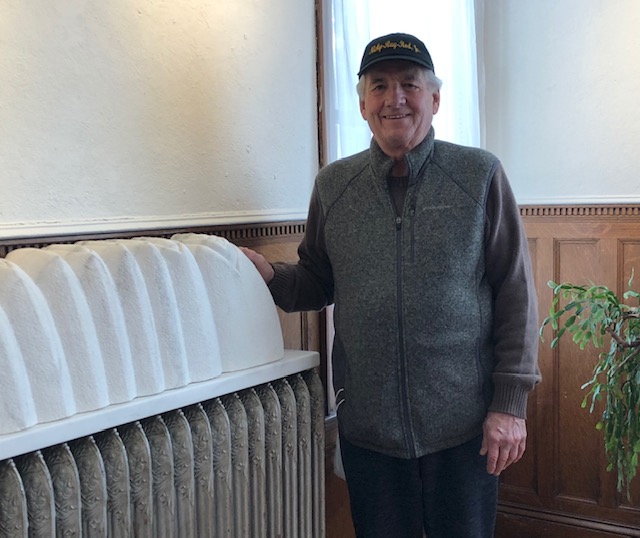 Artist Nicholas Santoro ~ In His Own Words
I returned to Brooklyn after earning a BA in Literature at the University of Iowa. While visiting the Brooklyn Botanical Gardens in 1972, I recall the first time I heard the distinctive ping of a hammer striking a chisel removing stone. I heard the sound coming from the back of the adjacent Brooklyn Art Museum on Eastern Avenue where art students were learning how to carve stone.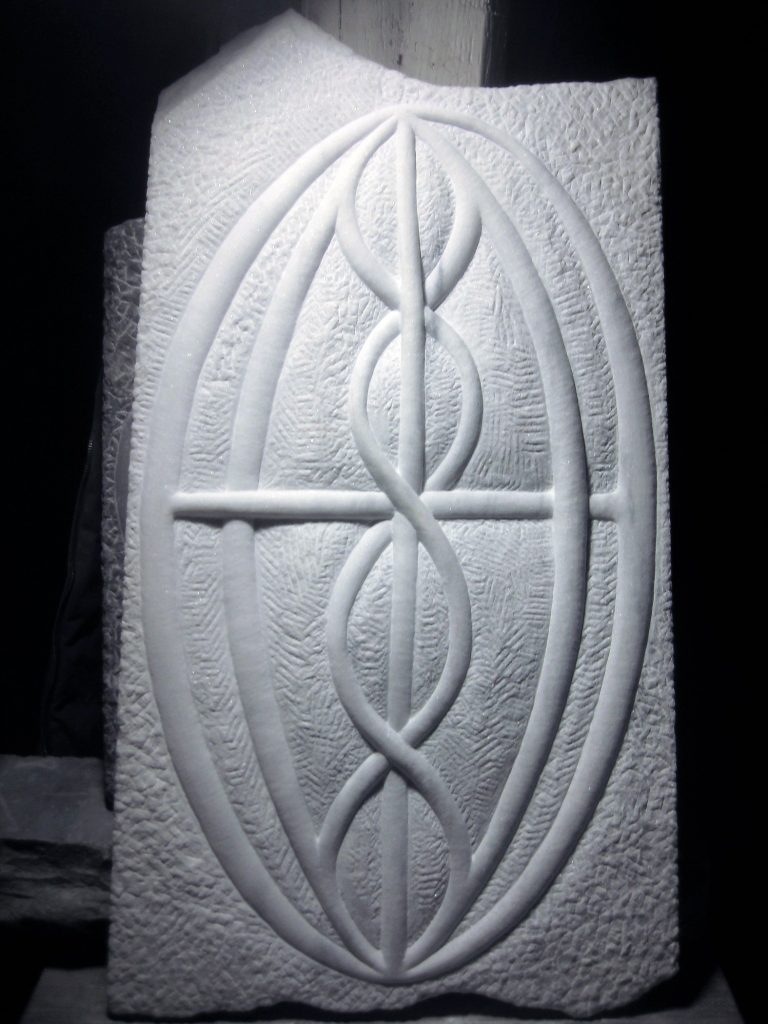 Five years later at the Corcoran Art School in Washington, D.C., a couple of blocks from the White House, I started my carving career with a piece of Indiana limestone. After striking the point chisel with the carving hammer, the oily smell exuded by the 300-million-year-old fossils in the stone captivated me. For 40 years shaping a stone compelled my attention. Carving a stone with the barest of tools used from time immemorial suited my temperament like a pair of finely fitted leather gloves. Stone provided me an avenue to be creative in a physical, athletic way. My wild angry passionate and poetic nature had discovered its calling.
Here's an example of one successful stone carving and how it came to be. It's currently exhibited at the Chaffee Art Center. I consider the small sculpture my best piece of stone carving from the hundreds I've shaped. From the mid-90's, the main vertical stone of ESSENCE was a small untouched block of stone until 2006. Making something with it was in the back of my consciousness but never with any specificity. Sometime in the late-90's a friend gave me a random piece of the same Tennessee pink limestone. There was never any intention to combine the 2 stones. About 10 years later, the characteristic dark gray veining of this type of stone called out to me to reduce the pink stone in order to raise the almost black vein. The only connection between the stones was that they were quarried in Tennessee.
What happened next was synchronistic perfection. Because the main vertical stone was too unstable to be shown without a base, I started looking around to see what seemed to work. When I chose the one given to me, not only was it the right size dimensionally (8 x 8″), its 3/4″ thickness didn't overwhelm the small main carving. The main vertical stone amazingly sat well-centered on the base stone, AND, most importantly, the veining of the vertical and base pieces magically matched up on the front and back sides. At that point, I reduced the pink stone around the veining of the base stone.
In the case of this carving, the vein emerges at the front of the base stone, climbs up the main vertical stone, descends the other side, and exits out the rear of the base stone. The reason I esteem this small work and talk at length about it, is that the vein is like an umbilical connection with our primal and universal Great Mother Earth, the essential source for any artist…"the ground of our being and the source of the grace that allows us to stand up and carry on."-Gary Lindorff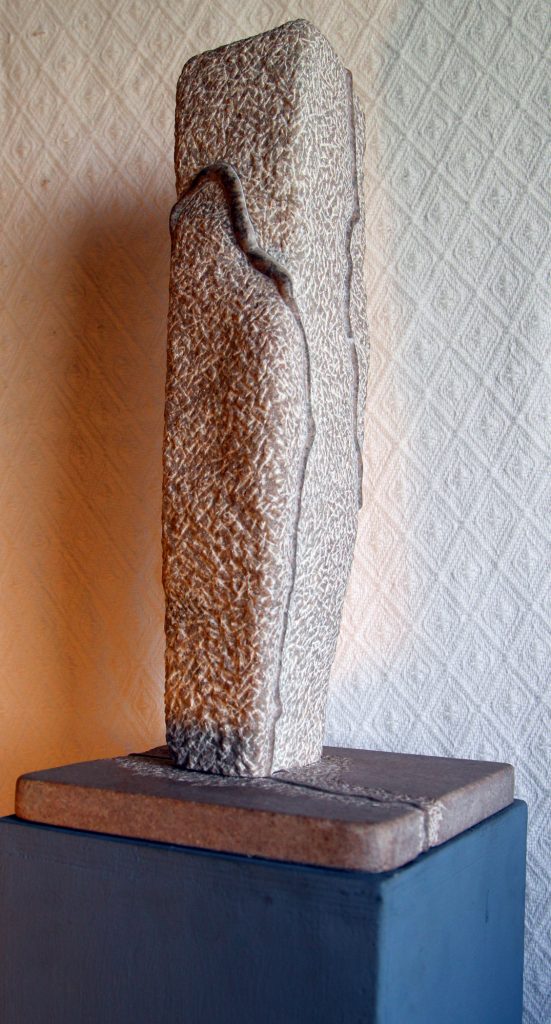 Here's another example of how I've come to create a carving. On this one occasion during a snow storm I walked a design in the snow at the Giorgetti Field which measures about 600 feet by 300 feet. Later, I carved it on a piece of white Danby marble. It was titled CADUCEUS.
I first came to this area when B Amore invited me to come to the Carving Studio. For 30 years, B Amore and Carol Driscoll's efforts to create and sustain the Carving Studio have provided innumerable artists from around the world an opportunity to work and live together around stone. Here in Rutland where marble was king for a 100 years this has historical and existential meaning. A great achievement!
For me, having a studio on the Vermont Marble Company quarry site in West Rutland changed my life as a sculptor. The vast amount of stone, its endless uneven, asymmetrical shapes lent themselves for inspired organic carving. I am grateful to Stanley Gawet for working with B Amore so the Carving Studio could get started, and to the Gawet family for its generosity over the years.
In September 2020, after a 5-month COVID delay, I had a couple more rods placed in my lumbar spine. Being sidelined for a about a year before the surgery and while regaining my health, I've had the golden opportunity to read like when in college. I've had time and space to ponder upon my experiences, relationships, behaviors. I'm grateful for the simple fortune of being here in Vermont. I'm fortunate to have a supportive partner. I have an opportunity to work on soulful projects in my ORO Shedio space. I'm regretful that I may have offended anyone, and hope that we may try again…

Carving stone and making sculptures engaged my instinctual sensibility with objects in space. Lately, my attention has been tuned to the symbolic language in my dreams, a most essential voice for any creative person.
As a young athletic man I relished the challenges of shaping a piece of Indiana limestone or marble into a sensual and visual object. Lately, I've been saving dimensional cuts from my firewood pile for their revealed natural beauties. In years past, I've glued blocks together and painted some, oiled others. This kind of work continues my love of organic growth. The conduit is still me, though now it's more just Nature's organic beauty rather my shaping that is central.
---