Artist of the Month, Sal Vitagliano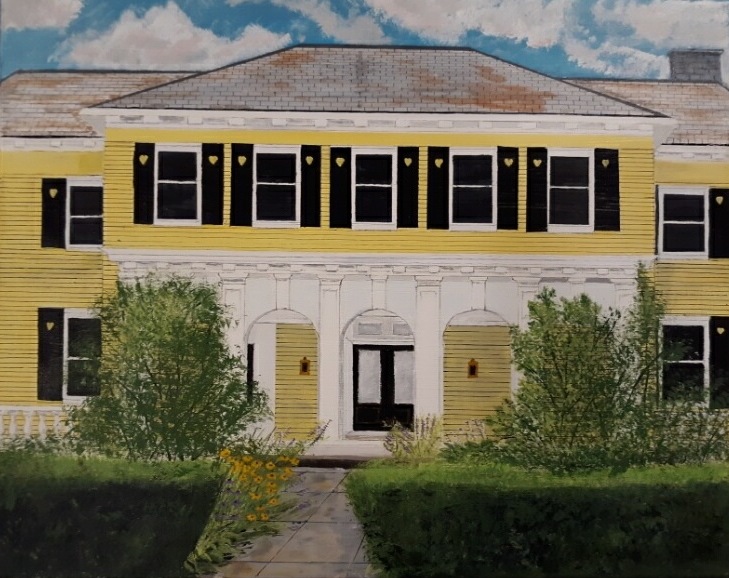 When the community around you is your source of inspiration, your work becomes a product of it.
Artist Sal Vitagliano spends a lot of time in his community and and the New England community at large. He paints what he sees, taking photographs on nature walks, and working from those. But he's also inspired by the local artists in the community. The mutual reciprocity between him and it and them transforms into artwork like a detailed graphite drawing of a shingled house next to a stone wall; or the rolling hills of a countryside, on fire with the colors of fall in acrylic. Highlighted by his natural talent, the scenes come to life.
An acrylic painter and graphite artist, he's inspired by things like the wild animals who cross his path, old mills, and New England scenery.
"I've been doing graphite for a while and then I got involved in painting," Sal said by phone recently. "My family encouraged me so I started fooling around with acrylics, and before Covid (worked) with Ann McFarren to get some basics in painting."
His process has evolved over time and now he says, "I go on artists sites and read a lot and keep practicing." Though he'd been drawing for years, retirement gave him the freedom to really commit the time he wanted to it.
"I've done photography over the years, I'd develop my own black and white film, and I still do a lot of photography and just about all of my art work is from photographs I've taken out in nature around Vermont and Massachusetts," he said.
And that's where the inspiration tends to strike.
Long Trail, Plum Island Wildlife Preserve, the New England coast, the Outer Banks in North Carolina, the light houses in Massachusetts and Maine, they all have Sal in common. "I like being outdoors," he said.
"Once I've chosen a photograph or ideas of what I'm going to paint, I'll put it together and draw on the canvas or I'll have it drawn out on a separate paper. Once I get the idea down, I'll start the painting, doing the background, getting the base colors down, and then start working on the detail."
"I compile some of the photographs together to make a painting," he added. "I'm working on one right now, a 3 foot by 4 foot fall painting. I took some pictures in Dorset and Danby, the mountain range and foliage, and added some of the buildings that I've taken pictures of."
It can take up to a couple weeks to finish one, depending on the size and the detail in it.
"(Sometimes) a while longer because I don't just sit down and keep painting. I'll do it for a few hours and then go back to it. I have to wait for the paint to dry in some cases, and go from section to section."
"Since I joined the Chaffee I've met a lot of artists and talked to them about their work and throw out different ideas," he said. "It's made quite a difference being part of the art community. You get a lot of support and good ideas from them."
Sal's work is currently on display and for sale at the Chaffee, stop in and visit at 16 South Main Street in Rutland.
---