62nd Annual Art in the Park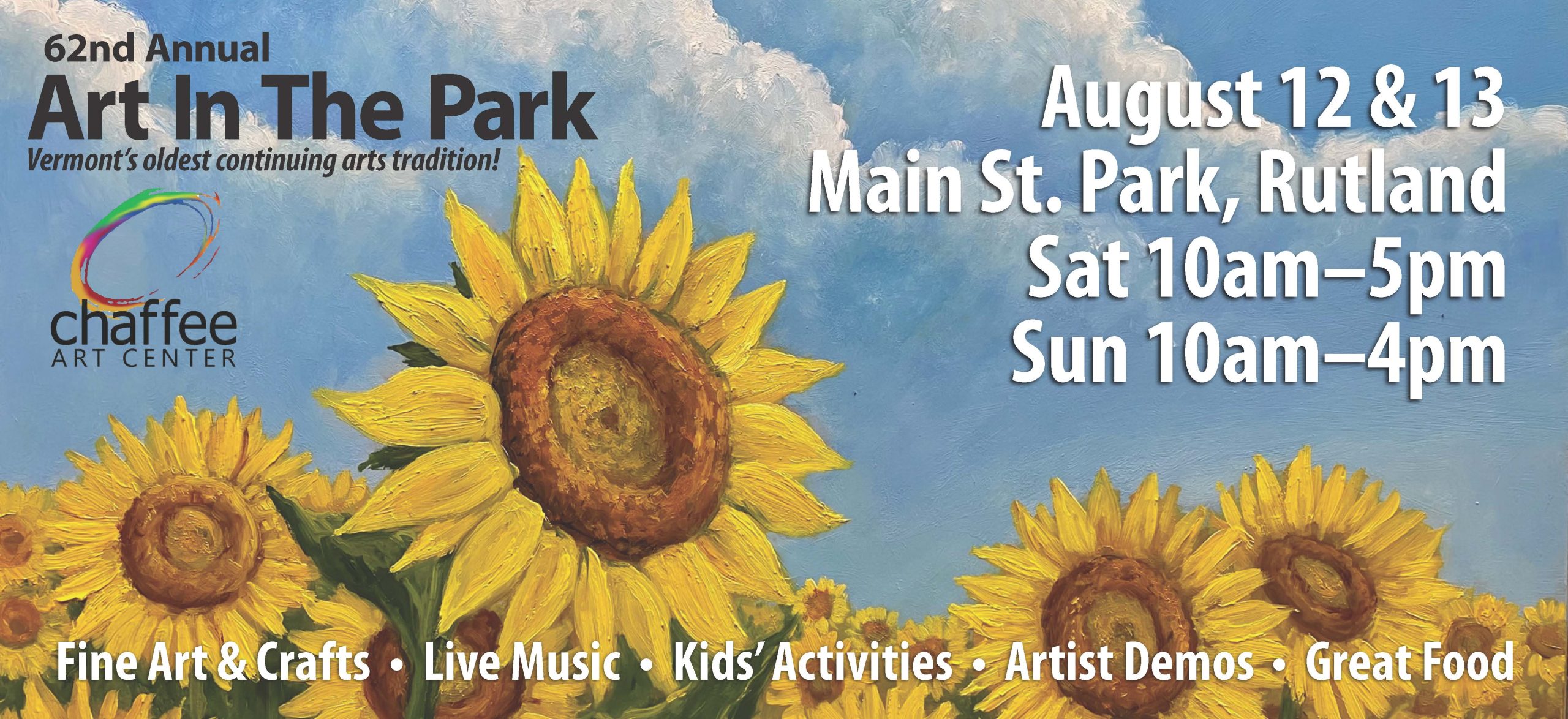 Chaffee Art Center's 62nd Annual Art in the Park Summer Festival will take place August 12 & 13 in Rutland's Main Street Park at the Junction of Routes 4 & 7. Juried fine artists, craftspeople, and specialty food producers will be featured. Rounding out the festival are food vendors, live music, Free kids' activities, and demonstrations of works in progress held throughout the weekend. Hours: Saturday 10am–5pm and Sunday 10am–4pm. A voluntary donation is appreciated.
We invite everyone to visit this fun event. Attendees will enjoy the variety of unique handcrafts and fine art that will be on exhibit and available for purchase at the outdoor festival. The visual arts are represented by a selection of oil paintings, watercolors, acrylics, and photographs. A full array of crafts will be featured: pottery; fiber items such as handmade clothing, quilted items, weighted blankets & heatable/freezable stuffed monsters, fabric art and canvas bags; stained glass sun-catchers and mobiles; stone candle lamps; variety of jewelry; wooden furniture, bowls, lamps, cutting boards, birdhouses, fairy houses; aromatherapy and herbal products; candles; CBD wellness products; metal garden art; hand lettered cards, prints, apparel and stickers; and more! Specialty Food producers will have jellies, jams, dips, spices, raw honey and honey products. There will be a booth to get artist hand-painted Henna tattoos.
Food concessions will be selling their delicious food both days to include the Yellow Deli and the Rollin' Rooster Food Truck. Also, for the sweet tooth, Fiona's Sweets & Tweets Food Truck will have ice cream floats and sundaes, specialty beverages and desserts; plus, you can enjoy Kettle Corn, Kettle Fudge and Roasted Nuts. Live music will be performed all day on Saturday and Sunday featuring Caber Wilson, Phil Henry, Dirty Red Hearts, James Cram, Breanna Elaine, and Jamie Snook. Back again this year are Chaffee Bucks that will be given away randomly at the gates throughout both days. Winners can spend the Chaffee Bucks during the festival weekend at any booth in the park.
NEW THIS YEAR: 1st Annual Chalk Art Contest, "Chalk Around the Park!"
From 10am to 4pm on Saturday, August 12, entrants can work on their chalk art on the sidewalk that goes around Main Street Park, and winners will be announced at 5pm. On Sunday, the designs will be on display for all to see. Open to the public: families, artists, individuals, businesses, friends … all are welcome! Pre-registration is recommended, but not mandatory. First-come, First-serve basis. Those who pre-register [Email [email protected]] will be assigned a 3×3 space to design, and an email with info and criteria will be sent. Entrants are encouraged to take a photo of finished design in case weather changes for judging purposes and social media usage. [If inclement weather, Contest will be moved to Sunday.]
VOLUNTEERS are very much needed to help during the event from set-up on Friday to gates on Saturday and Sunday. Please send an email to [email protected] to sign up, or call 802.775.0356.
Art in the Park is Vermont's oldest continuing arts tradition, and the Chaffee Art Center's major fund-raising event, occurring twice yearly in mid-summer and autumn. The festival is sponsored by: MVP Health Care, Rutland Regional Medical Center, Heritage Family Credit Union, Stewart's Shops, Voity Electrical, Price Chopper Supermarkets/Market 32. In-kind: Casella Waste Management, Rutland Recreation and Parks Department, Hull Maynard Hersey Insurance. Kid's Activities: Rutland Free Library, Green Mountain Music and Wonderfeet.
Stop in during open hours and explore our current Exhibit, "We're All At a Party Called Life On Earth!" featuring Fran Bull, and "Mythic and Quotidian" featuring Peter Wallis. Chaffee artist members have work on display and for sale throughout the mansion, as well as in the Gallery Shoppe that is filled with handmade treasures and gift ideas for any occasion. This exhibit will be on display until August 17th. Chaffee Art Center Hours: Wednesday & Thursday 12–7pm; Friday 12–5pm, Saturday 10am–2pm. 16 South Main Street, Rutland, VT. www.chaffeeartcenter.org; [email protected]; 802.775.0356.
---