4Strong Women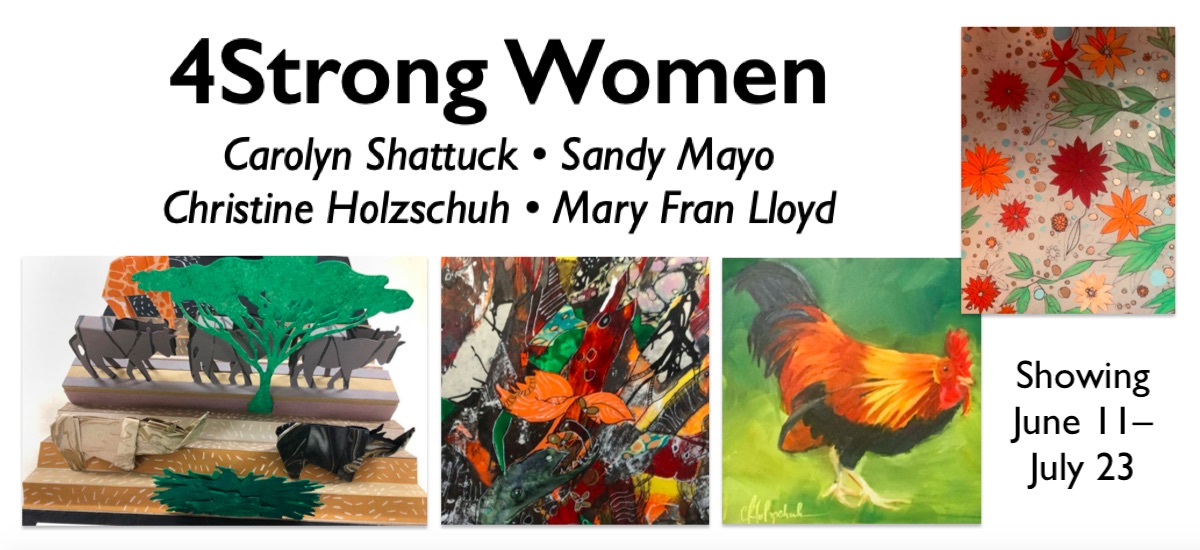 See also: 4Strong Women Enter the Chaffee
The Chaffee Art Center, Your Center for Creativity, invites the community to view our current exhibit, 4Strong Women.
The exhibit features solo galleries by the following artists:
Impermanence by Carolyn Shattuck
Back to the Garden by Sandy Mayo
Respite by Christine Holzschuh
Unfolding Thoughts (The Unfolding Line) by Mary Fran Lloyd
Carolyn Shattuck has been studying the imagery of New England tombstones for the past few years. The Puritan folk art of urns, angels, death's heads and hourglasses are reinvented through narrative still life and landscapes. Her work combines dry point technique and the monotype. Book Arts has been the focus of a body of work combining drawing and print assemblage techniques in three-dimensional form. She studied origami in order to construct the book, Excess in Moderation and Save the Elephants. Shattuck believes her work is the freedom to extrapolate ideas and motifs from many sources in order that they can cross-pollinate and exist as a whole. Her exhibit is titled Impermanence.
Sandy Mayo's gallery theme is Back to the Garden and represents large reproductions of a single composition. They were created in this specific manner so they could be for sale at an affordable price of $50 each. All the proceeds will be donated to the Chaffee's children's summer art programs. Included in her exhibit are 6-8 small prints that were copied from the same flower compositions. These pieces are left unfinished to encourage visitors of all ages to fill them in with magic markers provided. A free drawing for the small pieces will be held at the end of the show. Back to the garden is about love and community. The flowers and lively colors represent happiness and laughter and celebrate the work we have all done to protect ourselves, our loved ones, and our neighbors against COVID. Now it is time to let the children play!

Christine Holzschuh has a passion for her work. "Painting became my passion in 2010. I had raised 3 kids as a single mom, had a career in education, and worked hard to do things 'right.' This year, I was diagnosed with a terminal brain tumor. That has catapulted me into another reality where I am questioning my assumptions. I believe everything happens for a reason so here I am still trying to figure out what my purpose is! That would be fine if it weren't for the fact that I am about to turn 69. I should just be thrilled I have made it to this juncture! My work is focused on figurative pieces. Color, texture, and values all play into the overall composition, but the 'story' is what really interests me. Because I have finally reached that noble age of being a grandparent, I have many models with strong opinions about what I should do. Respite is the title I have chosen for these paintings. Fighting cancer is hard work! Often, I just want some respite. I hope you can relate to this notion as you study these paintings.

Mary Fran Lloyd's art is her version and her vision of how she sees life. Unfolding Thoughts (The Unfolding Line) is mostly the use of pen & ink line drawing, where the unfolding lines & color help create the emotional side of each painting's story. Having studied through the years, with many nationally known gifted artists, Mary Fran has realized the value of always learning new things, being open to change, and appreciating her own uniqueness. This transformation experience is what she feels art is constantly seeking. Mary Fran loves abstracting realism in order to convey her true feelings about a subject, an important life experience, an everyday meaningful event, or the culmination of all.

Chaffee artist members will also have work on display and for sale in the upstairs galleries, as well as in the Gallery Shoppe that is filled with handmade treasures and gift ideas for any occasion, or even for yourself! This exhibit will be up until July 23rd.
Attendees enter through the front door with masks, and follow a one-way flow while social distancing. Please remember to reserve your half hour time slot: 5pm; 5:30pm; 6pm; 6:30pm. Call 802.775.0356 or email [email protected] to reserve. There is no charge for admittance. A donation would be greatly appreciated.
As we celebrate 60 years as an art center in the Rutland Community, we also invite you to join as an artist, single or family member to help the Chaffee to continue to inspire and cultivate creativity, while positively impacting the vitality of our community through the arts.
Visit the Chaffee during open hours to experience the beauty of the 1890's historic building and the wonderful works of art throughout, plus our Gallery Shoppe! While here, picture your next event, bridal shower, wedding, meeting, or retreat being held in our beautiful 1890's mansion, fondly known by its first owners as Sunny Gables.
Hours: Wednesday, Thursday and Friday Noon to 4pm; Saturday 10am to 2pm. Private appointments available by request. Check out www.chaffeeartcenter.org and the Chaffee Art Center Facebook page for updates, call 802.775.0356, [email protected], or stop in to the Chaffee Art Center at 16 South Main Street in Rutland, VT.
---