22 Questions with Fran Bull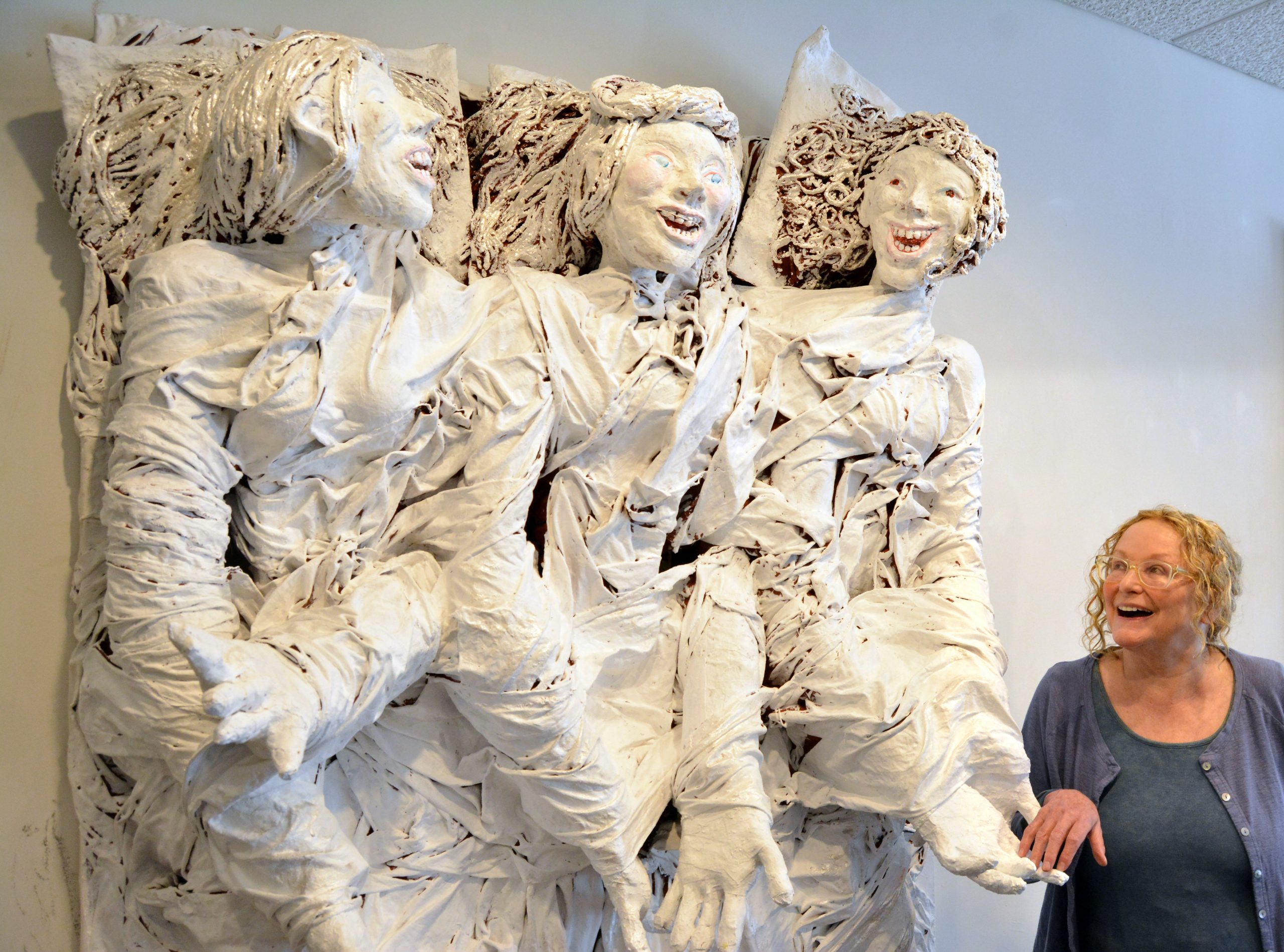 1. Name: Fran Bull
2. Age: 82
3. Hometown: I grew up in Montclair, New Jersey, lived in NYC for many years and now have lived in Brandon for 20 years. 
4. How would you describe yourself in three words? Adventurous, curious, obsessed. 
5. What's something not a lot of people know about you? I have a great interest in Physics, especially Cosmology. I sing opera.
6. How do you start your day? I get up, make the bed, write down a dream (I am engaged in Jungian therapy), take a shower, get dressed and eat the same thing every day for breakfast: fruit, Yogurt, walnuts, and a cup of tea.
7. What's the most adventurous thing you've done in your life? Committed to a life in art 
8. What's your favorite food? that same fruit salad I eat for breakfast! Oh, maybe oysters, raw and fresh from the ocean, but that experience is rare! 
9. Do you have a day job? no. 
10. What medium do you work in? I am a painter, printmaker, sculptor and performance artist. 
11. Why this medium? see above–my ideas and visions demand their mediums and I follow suit. 
12. What inspired you / how did it start? I began making art seriously at such a young age — maybe 6 or 7 — it was a calling. I attended Museum school in Newark, NJ my entire childhood, learning every medium. At the Newark Museum, I not only made art, I considered the museum my home away from home and lived among the artists on display. I had several great teachers there — all practicing artists, and later, a few very great teachers — June Leaf, Malcolm Morley, Barbara Pearlman, each of whom imparted invaluable knowledge and example.
13. Do you have a process for creating? Things come to me, images, voices, thoughts. Ideas and words from books and poetry. When the voices are loud and insistent, I know I must follow. 
14. When are you the most inspired / what's your favorite time of day to work? I'm not much of a morning person. I like sliding slowly into the day. Lately I begin around 11 or 12 in the studio.  
15. Which artists inspire you? There are many. Dubuffet comes to mind in this moment. Picasso, Malcolm Morley was a tremendous influence — we married briefly and I worked in his studio all day, every day for three years.  He was a brilliant artist and teacher. I adore Yayoi Kusama these days, her idea that we are but a dot in the vast universe. Oh, so many artists.  
16. What do you listen to when you work? I can't listen to music for long as I work. It is distracting. I did listen to a book on tape recently, however. Depends on where I am in the process. There is a phase of work that is repetitive and even tedious. That's when I can have audio. 
17. What are your thoughts on being an artist in Rutland? Thanks to Bill Ramage, who is himself a brilliant artist and organizer, I can participate in a vital and interesting community of artists in Rutland. I am crazy about these artists, all so good, and such great people. I have been involved, as well, with the Carving Studio — a sensational place, and unique in the world. I have taught there,served on the Board,  I love Carol Driscoll, the director, and were it not for Covid this past year, I'd have quite an interesting and inspiring social life as an artist.  
18. What's your earliest memory of making art in Rutland? Sorry, I have not actually made art physically, in Rutland.  I had a smashing show at the Chaffee in 2017. Meg Barros arranged for me to speak at the Paramount — also an incredible experience of putting together a 1-hour talk with PowerPoint called My Life In Art. I think it's on my web site.  
19. Why do you think artists are attracted to Rutland? One person is responsible for this excitement: Bill Ramage. It was his idea to open 77 Gallery and to fix it up so that it was quite gorgeous as an exhibition space. He gathered over 100 artists statewide for a show, and then along with others, started a residency for artists from all over the world. Rutland as an art mecca is largely his vision. He has explained to me that Rutland is at the center, geographically, of a larger arts community encompassing The Hood Museum, the museum at UVM, Mass MOCA to the south, the Clark, and even Albany.  His vision for Rutland is broad. All that is needed is the usual: funding!
Meg Barros created some excitement during her tenure at the Chaffee, as well. Art in the Park was just terrific. Again she invited me to mount my installation, In Flanders Fields–a glorious experience for me. We had a series of talks–poets, artists and Ilene Blackman (now deceased) created a most wonderful dance piece in the midst of my sculpture. These were great times and unique moments.
20. Which arts organizations in town are you involved with and how has it impacted you? See above. Just now I am not active. Covid is largely responsible, but also I have been pursuing parts of my career in NYC and Europe. I am very active in Barcelona, in Milan. A work I spoke about at the Sparkle Barn in Wallingford (Stacy Harshman is also doing great things in that location) an elaborate boxed set of etching and poetry,  (a kind of diary of healing visions I had while undergoing radiation treatments for cancer at RRMC, Edition of 13), is now in the permanent collection of the Biblioteca Nacional of Catalunya. There will be an exhibition in April, 2021. I make etchings in a studio in Barcelona, having worked there since 2000. (I speak Spanish).
21. What's your favorite art exhibit/project you've seen in Rutland? Hard to pinpoint.  There have been several.  I loved Whitney Ramage's installation recently at the 77Gallery. I love Bill Ramage's large "Downtown Rutland" drawing. I loved Sandy Mayo's exhibition of abstract work last year. Oliver Schemm had a wonderful show that touted the origins of the museum–gosh, I need to look up the title. It was such an enlightening show.  
22. What would you like to see for the future of the arts in Rutland? I would like to see an influx of adequate funding for the Arts so that people like Bill and Oliver and Sandy and others, could build upon their visions. The Chaffee should be a major community center, a museum, gallery, performance space, restaurant on the model of MassMOCA. Kids ought to have a place they can claim as their own for making things, and being safe and nurtured. But perhaps such a center needs to be located more downtown. There ought to be a beautiful museum/education center, community center. There is no lack of vision.
Click to view all the "22 Questions With" artists. Check back regularly for more!
---