The Sweetest Side of Life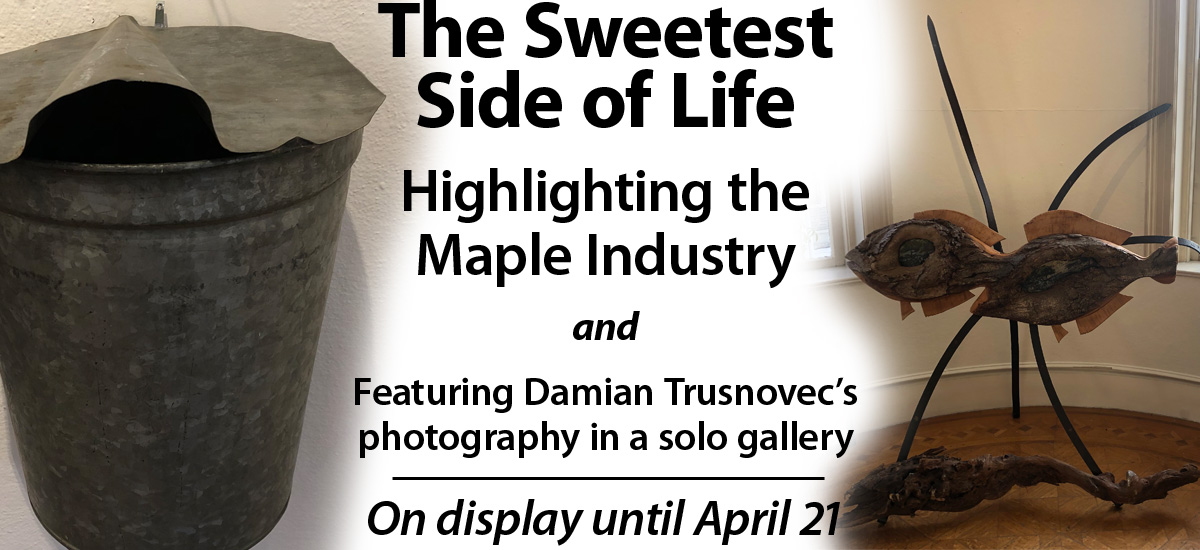 The Chaffee Art Center, Your Center for Creativity, invites the community to the our current Exhibit "The Sweetest Side of Life." Join us in celebrating the maple industry. We are excited to be working with the Rutland County Maple Producers to highlight Maple Sugaring in Vermont! Thank you to the Rutland Historical Society for providing wonderful old photographs of the sugaring process.
Did you know … In Vermont, maple is a key agricultural enterprise. Based on cash receipts, maple is the fourth most valued agricultural commodity in Vermont and when livestock is removed, maple is the second. Vermont is the largest maple producer in the US accounting for 42% of the production. In 2022, Vermont harvested the most maple syrup in the country, and the most in the state's modern history [2.5 million gallons of syrup, which is an 800,000 gallon increase over 2021].
Stop by and Explore the displays highlighting the Maple Industry. Chaffee Artist member artwork featuring maple sugaring and Vermont traditions are showcased to add beauty and creativity to the exhibit. There is no charge for admittance. A donation would be appreciated.
Be sure to browse the rest of the mansion and take in the 1890's architecture. The first floor features Artist member, Damian Trusnovech, with a solo gallery of her breathtaking photography. Chaffee artist members work is also on display and for sale throughout the first and second floors, as well as in the Gallery Shoppe that is filled with handmade treasures and gift ideas for any occasion. This exhibit will be on display until April 21.
As we celebrate 62 years as an art center in the Rutland Community, we also invite you to join as an artist, single or family member to help the Chaffee to continue to inspire and cultivate creativity, while positively impacting the vitality of our community through the arts.
Plan to visit the Chaffee during open hours to experience the beauty of the 1890's Queen Anne Victorian Mansion and the wonderful works of art throughout, plus our Gallery Shoppe! While here, picture your next event, bridal shower, wedding, meeting or retreat being held in our beautiful mansion, fondly known by its first owners as Sunny Gables.
Winter hours: Thursday and Friday Noon to 4pm; Saturday 10am to 2pm. Private appointments available by request.
Check out www.chaffeeartcenter.org and the Chaffee Art Center Facebook page for updates and classes, call 802.775.0356, [email protected], or stop in to the Chaffee Art Center at 16 South Main Street in Rutland, VT.
---