New Exhibit: Cultural Mosaic opens Friday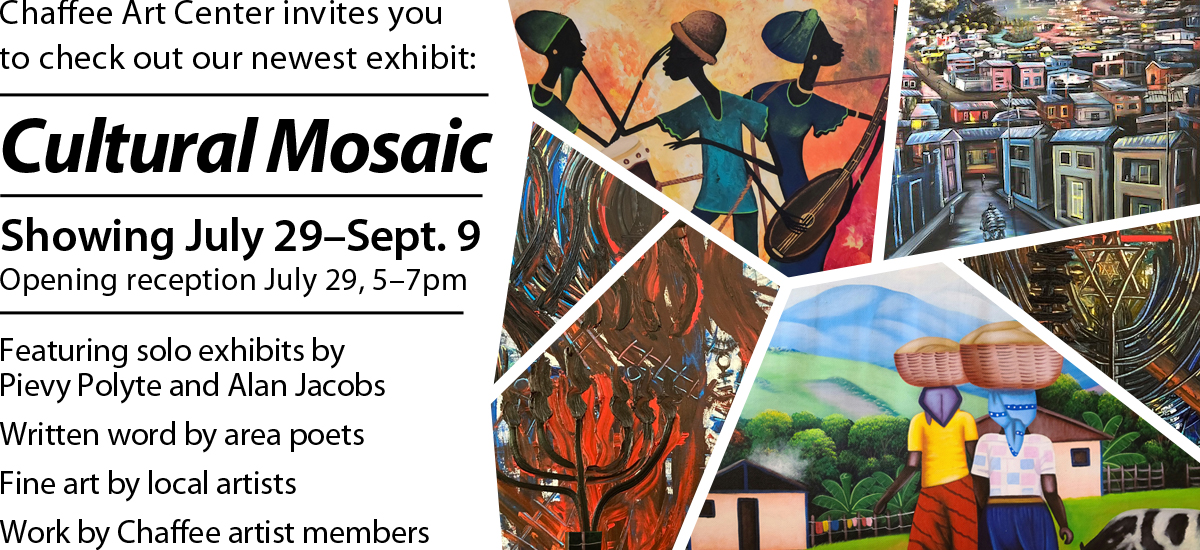 Rutland, VT: The Chaffee Art Center, Your Center for Creativity, invites the community to the opening reception of our new exhibit Cultural Mosaic on Friday, July 29th from 5pm to 7pm. Stop by for delicious Haitian Blue Artisan Coffee, wine, music, art, poetry and great company. There is no charge for admittance.
A donation would be appreciated.
By definition, "Cultural mosaic is the mix of ethnic groups, languages, and cultures that coexist within society", and this exhibit reflects just that. The mosaic of artists who bring a variety of backgrounds, styles, and perspectives will fill the Chaffee with inspiring and creative works!
Featured will be vibrant and colorful art by Pievy Polyte, artist from Peak Macaya, Haiti living in Burlington, VT; Alan Jacobs, self-taught artist whose paintings include an ocean series and a Holocaust series; written word by area poets; and Chaffee artist members will have work on display and for sale throughout the mansion as well as in the Gallery Shoppe that is filled with handmade treasures and gift ideas for any occasion.
As part of the Cultural Mosaic Exhibit that will be featured in the Chaffee Art Center from July 29 to September 9, we plan to have Artist Talks and Poetry Open Mic Events.
Plan to visit the Chaffee during open hours to experience the beauty of the 1890's historic building and the wonderful works of art throughout, plus our Gallery Shoppe! While here, picture your next event, bridal shower, wedding, meeting or retreat being held in our beautiful 1890's mansion, fondly known by its first owners as Sunny Gables.
As we celebrate 61 years as an art center in the Rutland Community, we also invite you to join as an artist, single or family member to help the Chaffee to continue to inspire and cultivate creativity, while positively impacting the vitality of our community through the arts.
Hours: Wednesday through Friday Noon to 4pm; Saturday 10am to 2pm. Private appointments available by request. Check out www.chaffeeartcenter.org and the Chaffee Art Center Facebook page for updates and classes, call 802.775.0356, [email protected], or stop in to the Chaffee Art Center at 16 South Main Street in Rutland, VT.
---