Jay & Helen Taylor from Green Mountain Music will be offering Music Lessons at the Chaffee starting the beginning of May.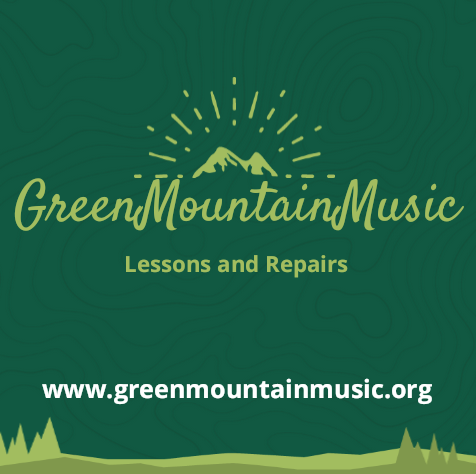 To sign up, visit
www.greenmountainmusic.org
facebook.com/greenmountainmusic.org
[email protected]
802-772-4460
Classes Offered:
30 minute, 45 minute or 1 hour private lessons for banjo, guitar, mandolin, violin/fiddle, ukulele, bass, beginner piano and cello. 
Rates:
• 30 minute lesson once weekly $120/mo.
• 45 minute lesson once weekly $180/mo.
• 1 hour lesson once weekly $240/mo.
*Family discount — $20 off per month for every additional family member enrolled.
Teacher Bio's
Violin/fiddle teacher:
Helen Taylor is a classically trained violinist and seasoned fiddle player who has her Bachelor's degree in music and theatre arts from Bennington College. She studied violin and music education with legendary artist and teacher Ladonna Smith and has toured the world as an artist and performer. Helen was also a nanny and early childhood educator for 12 years and accepts students starting at age 3. She lives in Rutland City with her husband and son. 
Banjo, guitar, mandolin, ukulele, bass, beginner piano and cello teacher:
Jay Taylor has been playing and teaching music for 25 years. He has studied and performed classical music at Florida State, jazz in Miami, and traditional music at Brevard College in North Carolina. He has played classical guitar in countless performances throughout the US and has toured and recorded with various rock and Americana bands throughout the Southeast. Jay lives in Rutland with his wife and son.