Chaffee in the News: "Multicultural at Rutland's Chaffee: Work by Pievy Polyte and Alan Jacobs"
View original article by the Rutland Herald
By Janelle Faignant Arts Correspondent
You'll see it as soon as you walk in the door. The contrast between two artists who use bold color in vastly different ways. In one room, Pierrevy Polyte's sun-kissed scenery and sense of building up a community sits next to Alan Jacobs' fire and desolation in the next room.
The Chaffee Art Center's new exhibit titled "Cultural Mosaic," running through Sept. 9, looks at the mix of ethnic groups and cultures that coexist in society, and in the case of the two featured artists, on a very personal level.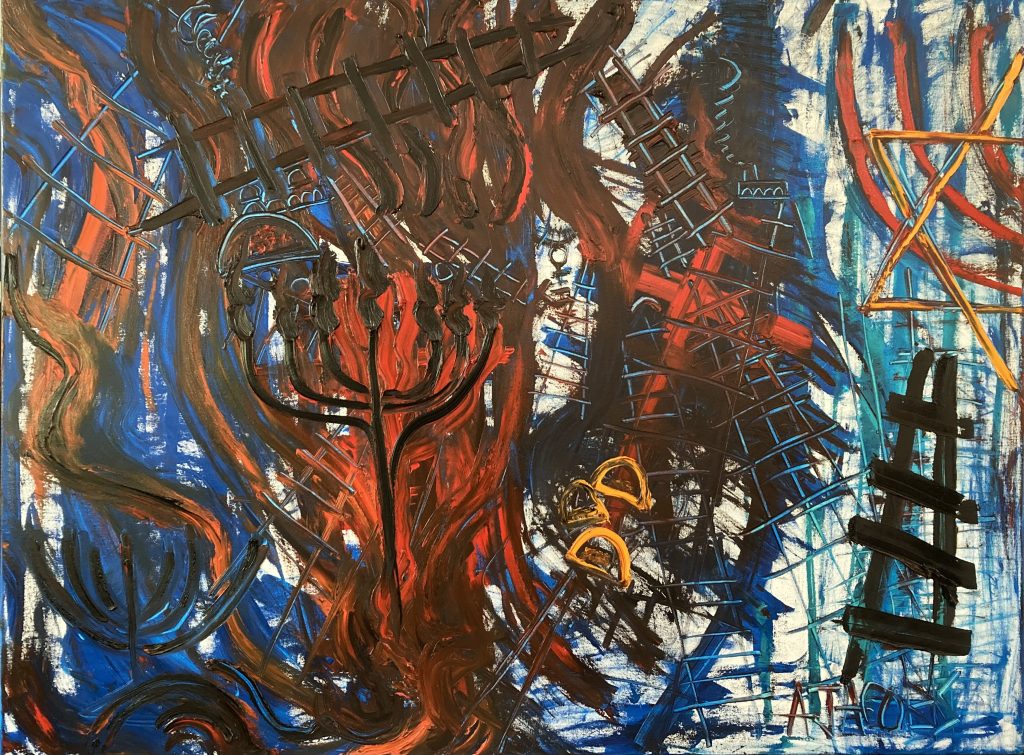 At first glance the work of Alan Jacobs, a retired psychiatrist, psychoanalyst and self-taught artist, is disturbing. Bold slashes of black and red evoke images of death, charring, and Hell. In the room next to it, Pievy Polyte, who hails from Haiti but lives in Burlington, depicts a quiet, simple life in a sunlit village.
"My inspiration (is that) I'm from Haiti, and life down in Haiti is really, really tough," Polyte said by phone recently. "You need to try to get a skill that someone else doesn't have and that's what made me see how I can be more creative."
Polyte grows coffee and vegetables on his farm in Peak Macaya, an extremely rural mountain town, and says life there is the inspiration behind all he does. "How can I help?" he said.
Polyte's work comes from acrylic and oil, completely created from an image existing only in his imagination, but you could easily look at them and think they were done from photos taken of the scenes.
"Sometimes I (do) that, sometimes I don't," he said when asked if he traces or draws before painting. But most of the time he doesn't, and he doesn't use a photo to work from, the picture in his mind is so vivid.
"It just comes in my head," Polyte explained. "And I feel the vibe."
A starkly different experience lies in Jacobs' exhibit, and it's meant to. It's one that will stay with you when you leave.
"It's reactions to the horror of the Holocaust from a Jewish American perspective," Jacobs said by phone. "That informs the paintings, and they're abstract and expressive and symbolic, but there's no narrative in them."
"They have many different moods and feelings in the same painting," he added. "The paintings are dark and they're a response … not only to the death camps but the rest of the people around the world. They're highly suggestive and ambiguous and carry many different moods and connect to many different things."
"There's many different symbols and references but no specific narrative or single statement, because one's feelings go from horror to anger to helplessness to revenge to peaceful to escape … it goes on and on," Jacobs said.
He likened his process to writing: "You have an idea in your head of a whole story, or you have a character, and the character may start taking on a life of his or her own. Whatever you thought you were going to do doesn't feel quite true as the character is developing. You may go in a somewhat different place than you thought you were going. So the work sort of takes on a life of its own and it escapes to some degree your conscious planning and original intent," Jacobs explained. "So that whatever you thought you were doing, that was a start. But it may end up in a very different place."
Jacobs and Polyte are the two featured artists in the exhibit, and the theme continues throughout the rest of the mansion. The staircase walls feature framed written word by local poets and Chaffee artist members have work on display upstairs. There are also planned artist talks and poetry open mic events throughout the exhibit's run.
---