Chaffee Artist of the Month, Fran Bull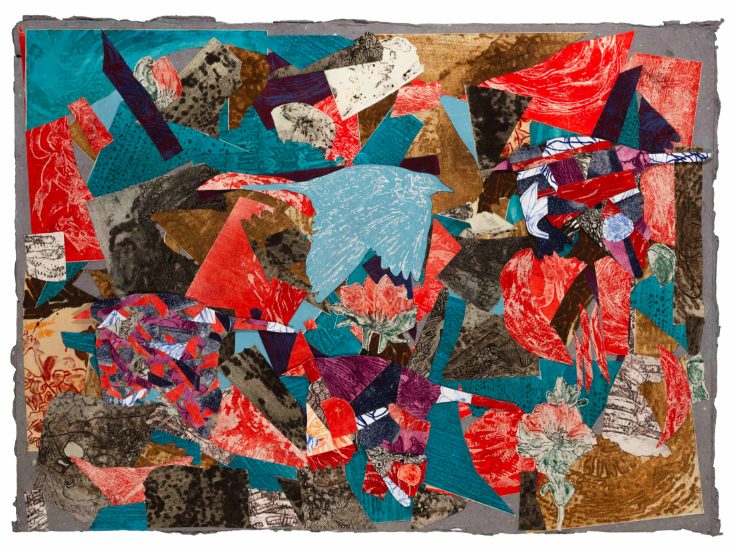 We're All at a Party Called Life is the name of artist Fran Bull's latest art installation and it's a traveling show. A series of painted sculpture inspired by dell'Arte Opera and carnival, "It's a Greek drama and they're not carved, they're built of plaster," she explained at a recent interview at Speakeasy coffee shop in Rutland.
"Improvised within a structure" is how she describes her process, and her Wikipedia page says she is an "American sculptor, painter, and print-maker living and working in Brandon, Vermont and Barcelona, Spain." Since the mid-1990s her mediums have included performance art, sculpture, mixed media, and printmaking, and painting, and her work has been exhibited all over the world.
"I use a lot of Venetian plaster and that's beautiful because it's green, meaning it can go down the drain and it doesn't ruin your pipes. It becomes a clay that's like putty and then you can dip your fabric in it and it dries hard like plaster. Then I can paint it," she said.
Her current show was partly inspired by the recent research discovery suggesting that the famous marble base sculptures of Greece were at one time painted. "They had red garments, painted faces. If you went into Athens it was ablaze with color — the sculpture, the walls, the buildings, reds, golds — a completely different image of classical Greece."
"Over time the paint wore away and it was white marble," she said. "So we have a different aesthetic, we think the marble is beautiful why would you cover it, but it was a different culture."
"There's such resistance to it, even among scientists and certainly among art historians, they don't want to believe this," she said. "I was thinking about that and I thought, I'm going to make a show with brightly colored figures."
"It's talking about world peace, about unity," she said about the installation. "It looks like a circus."
The common thread in all of her work stems from "human beings, the human condition, issues, problems, thoughts that pertain to our lives or our lives in this time," she said, and added, "I start with a big overall idea of some sort, it can be very vague, just to get me started. Because once you start moving (inspiration) comes in."
"A lot of how I work is what comes through my imagination, my psyche," she explained. "Very frequently it doesn't feel like I'm the one who's making these things happen, it feels like it comes to me. Then I just trust that."
As a member of the Chaffee she said, "I have had an incredible experience with the Chaffee. A little tribute to Sherri – she's very devoted and she has brought so many interesting ideas to the Chaffee and so many ways to engage in the community and with kids. Those experiences when you're young learning clay or music are so important and life changing and I really admire her for what she's doing."
---