BenchART unveiling!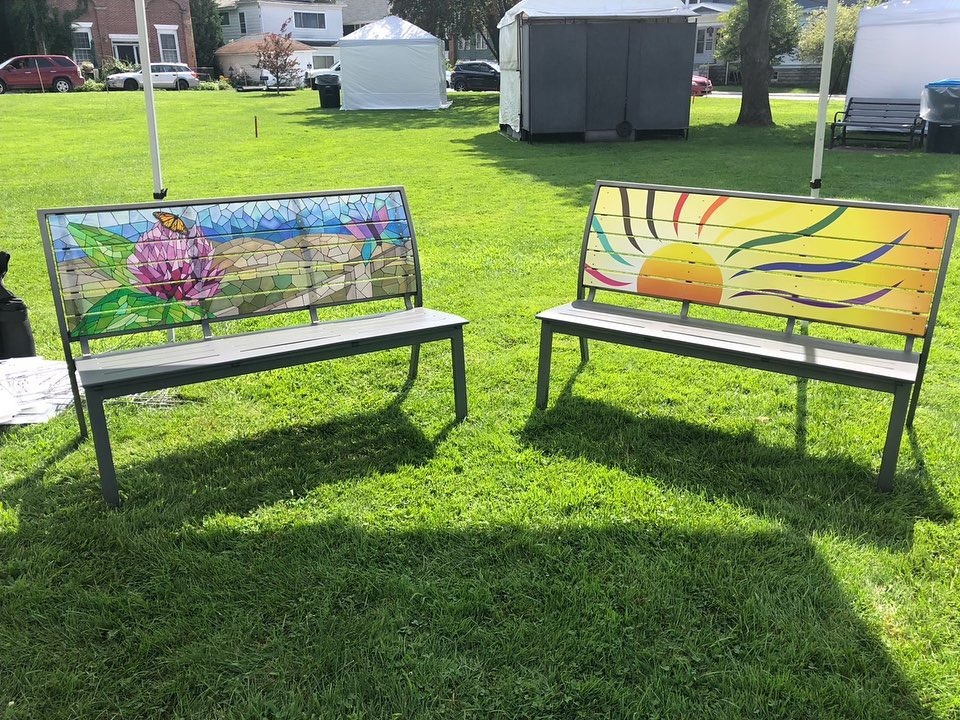 PRESS RELEASE
18 August 2021
The community is invited to our BenchART Unveiling Event Friday, August 27th outside at the Chaffee Art Center! Join us as we unveil the 42 Rutland BenchART Community Street Art Project Benches! First we will have an Artist and Sponsor Meet & Greet with Wine and music by Green Mountain Music. Then from 6–7:30pm we will have the public unveiling with music by Steven Wilson and the Rollin' Rooster Food Truck. In case of inclement weather, we will be inside with masks.
The Telescope Casual Furniture Bazza benches were retrofitted by Brookside Woodworking with a wooden back that talented local artists painted both sides of. There will be a total of 42 benches unveiled.
ARTISTS…
1. Kristen Partesi
2. Christine Foster
3. Mary Fran Lloyd
4. Heather Wilson
5. Kim Cheswick Williamson
6. Sal Vitigliano
7. Christine Townsend
8. Lou Kenney
9. Jen Rondinone
10. Mary Crowley
11. Karen Seward
12. Ann McFarren
13. Amy Carr
14. Kathryn Wiegers
15. Kathy Juckett
16. Deb Dauphinais and Sarah Bloch
17. Julia Quimby Cohen
18. Peter Wallis
19. Oliver Schemm
20. Carolyn Shattuck
21. Christine Holzschuh
22. Sally Hogan
23. Rachel Firliet
24. Rebecca Langer
25. Kelly Gearwar
26. Helvi Abatiell
27. Bill Ramage
28. Jason Bemis
29. Betsy Moakley
30. Glenn Scott
31. Caber Wilson
32. Edith Hiller
33. Piper Strong
34. Ethan Nelson
35. Lynn Pratt
36. Marcia Shipman
37. Dale Bills
38. Nikki Manniery
39. Linda Arsenault
40. Tedesco Masonry
41. Kid's community project of those who attended August Art in the Park
It will be a fantastic project for Downtown Rutland and the region to Omya is our Supporting Sponsor.
With this project, many of the benches will be permanently placed in locations in Downtown Rutland and the area. This will build on and enhance the current art installations of murals, sculptures and more, featuring Rutland as an artist and art enthusiast's destination. It showcases local creative talent while fostering the economic vitality of our communities, and serves as a marketing tool to bring in visitors, showcase Rutland and our region as a place to live and bring new business, and as something fun to do with family and friends.
As part of the project, we will create a new Walking Tour Brochure of historic properties in Rutland. This brochure will also include the murals, Sculpture Trail, Rutland Art Ramble, heARTs, Trains, Benches and more that people can use along with the new app from the Downtown Rutland Partnership. We will Auction some of the benches live if the pandemic protocols permit after the October 9 & 10 Art in the Park Festival.
Community Partners:
• Mayor Dave Allaire
• Downtown Rutland Partnership
• Chamber & Economic Development of the Rutland Region
• Rutland Redevelopment Authority
• Rutland Regional Planning Commission
• West Rutland/Town Manager, Mary Ann Goulette
There are sponsorship opportunities available for the limited number of benches available. Be a part of this exciting project that will build on our region's community spirit and economic vitality and promote the arts!
Visit www.chaffeeartcenter.org or stop in to the Chaffee Art Center, 16 South Main Street, Rutland, VT. Hours: Wed-Fri 12-4; Sat 10-2; or by appointment. Contact info: 802.775.0356, [email protected].
---