Mythic and Quotidian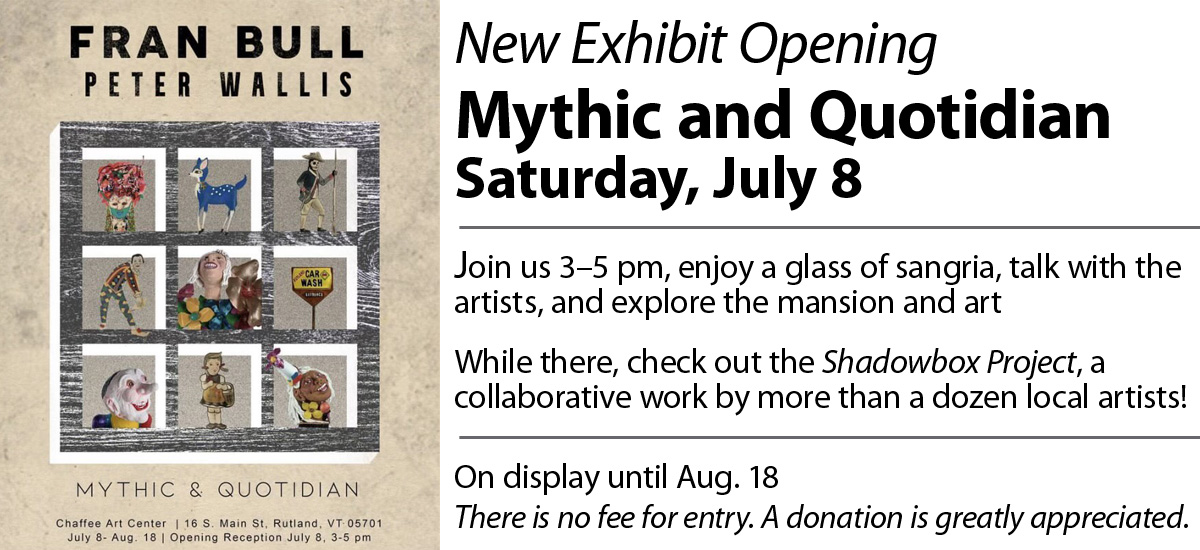 The Chaffee Art Center, Your Center for Creativity, invites the community to the opening reception of our new Exhibit "Mythic and Quotidian" featuring Fran Bull & Peter Wallis on SATURDAY, July 8th, 3–5pm. Stop by and enjoy a glass of Sangria, talk with the artists, and explore their work in the first-floor galleries. There is no charge to attend.
A donation would be appreciated.

Artist Fran Bull: My collaborator, architect. Robert Black and I, will show the acclaimed installation, "We're All At a Party Called Life On Earth!" configured especially for the Chaffee gallery. The installation of painted sculpture and works on paper emerged out
of the Covid pandemic and celebrates the unity of humans and all creatures on planet earth. I am excited and honored to be showing art alongside rising star artist, Peter Wallis!

Artist Peter Wallis: My work brings together the mythic and quotidian. Using a visual language of abandoned buildings, combined with figurines, dance, and skeletons.
I create landscapes of memories and dreams. The process of walking develops concepts. I find elements and inspiration from where I am as a starting point for all my work. Collecting these moments, memories, people, and places brings many elements into the work. I winnow these collections down, research, develop and rework where the elements are in the space. Each work leads the viewer to create their own story as they move through the work. I am in search of an eternal moment.

Shadowbox Project: Growing up we collected memories, moments, and objects in shadow boxes. Fran and I are excited to bring together a wonderful group of artists with this project. These Shadow Boxes and collaborations feature the work of: Gordon, Sarah & Peter Wallis, Fran Bull, Edward Holland, Crystal Yacolino, Stephen Remington, Hasle, Sibyl Bender, Karly Haven, Clyde Dunton-Gallagher, Michael Powsner, Aaron Davis, Grimy, Brandy Bushey, Brian Walters II, Caber & Mike Wilson

Be sure to browse the rest of the mansion and take in the 1890's architecture. Chaffee artist members' work will be on display and for sale on the grand staircase and throughout the upstairs galleries, as well as in the Gallery Shoppe that is filled with affordable handmade treasures and gift ideas for any occasion. This exhibit will be on display until August 18.

As we celebrate 62 years as an art center in the Rutland Community, we also invite you to join as an artist, single or family member to help the Chaffee to continue to inspire and cultivate creativity, while positively impacting the vitality of our community through the arts.

Plan to visit the Chaffee during expanded Summer Open Hours to experience the beauty of the 1890's Queen Anne Victorian Mansion and the wonderful works of art throughout, plus our Gallery Shoppe! While here, picture your next event, bridal shower, wedding, birthday, meeting, or retreat being held in our beautiful mansion, fondly known by its first owners as Sunny Gables.

Summer Hours: Wednesday and Thursday Noon to 7pm; Friday Noon to 5pm; and Saturday 10am to 2pm. Private appointments available by request.

Check out Chaffee Art Center on Instagram and Facebook pages for updates on events, classes and more. Call 802.775.0356, [email protected], or stop in to the Chaffee Art Center at 16 South Main Street in Rutland, VT.
---