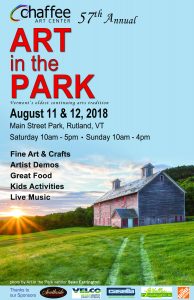 The Chaffee Art Center is pleased to be offering its 57th set of Annual Art in the Park Fine Art & Craft Festivals in 2018.   Our  2018 Summer and Fall Foliage Art in the Park will be Saturday & Sunday, August 11 & 12 and October 6 & 7, held in Main Street Park, at the Junction of Routes 4 & 7 in the heart of Rutland, Vermont.
All gate donations  support the Chaffee Art Center's exhibitions, education, and community outreach programs.
If interested in applying to be a vendor, fill out the below application and email to [email protected], mail to Chaffee Art Center, Attn. Art in the Park, 16 South Main Street, Rutland, VT 05701 or drop off at our gallery.
2018 AIP Application Regulations
Current accepted vendors, if you refer a NEW vendor to AIP, and they are accepted, you receive $50!  There are no limits to how many people you can refer.
Support our Festivals!
Do you want to advertise in this year's Art in the Park booklet or sponsor the festivals? Call 802-775-0356 or email [email protected].
Volunteers are essential to the success of our festival, assisting with set up, take down, and everything in between.  If you are interested in volunteering during our 2018 Art in the Park Festivals please contact us at (802) 775-0356 or [email protected].