Navigation Menu

Juried Artist Exhibit featuring Steve Halford
September 28 @ 8:00 am

-

November 3 @ 5:00 pm
A juried exhibit of artwork by new and current Chaffee Artists Members using a variety of media. Oils, watercolor, ceramics, photography and mixed media are just some of the types of art that will be displayed in this exhibit.
The exhibit will also feature artist Steve Halford, who will be presenting his latest work in Fushiana Raku.
Steve Halford graduated with a B.F.A. FROM Florida Atlantic University in 1966, then became a career art educator, teaching five years in Florida and five years in Connecticut before moving to Vermont, where he developed and tough 3-D course at Rutland High School that was titled "Creative Structure". After twenty-one years of teaching in Rutland, he retired in 2006 and has since been working on a body of artwork currently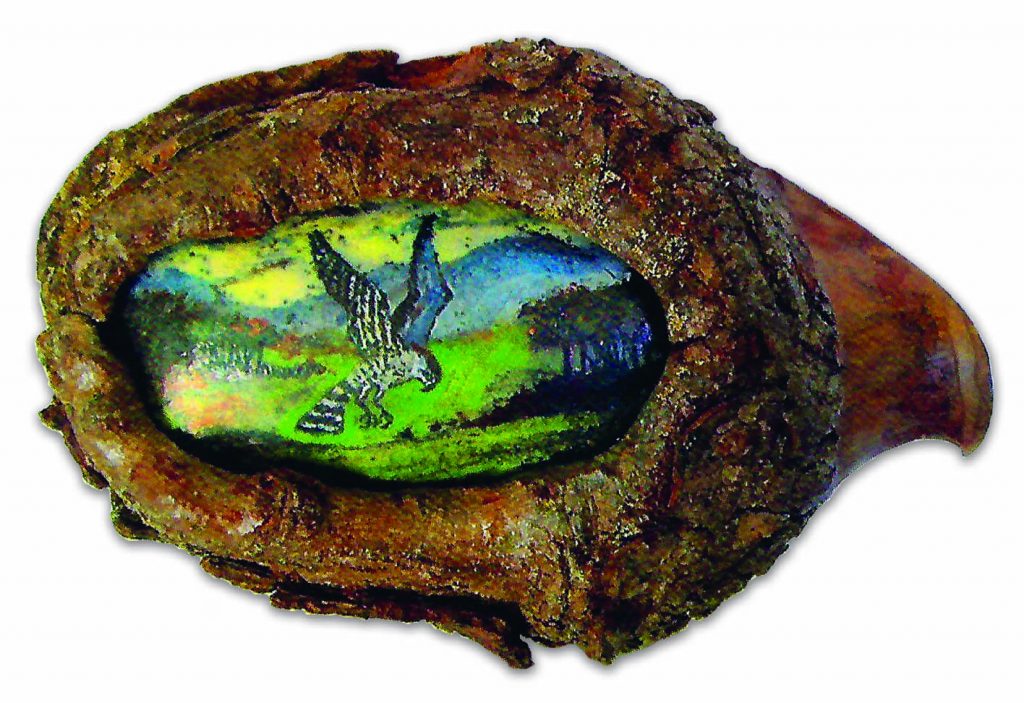 using a form of Raku pottery and a nature theme.
The method of using Raku firing Steve developed borrows from the Japanese method of Raku fired pottery which he has titled: Fushiana Raku. The Japanese word: "Raku" roughly translates into the word "Enjoyment" and "Fushiana" translates into "Knot Hole." This method differs in theme, but the procedure is the same: a shock resistant clay is used as in the Japanese method. The form is created dried, low glazed with low fire glazes. The glazed pottery is heated to the melting point of 180 degrees. Then while hot, the pottery is pulled from the kiln and placed into a container of combustible materiel (leaves, sawdust, etc.) and quickly sealed. The closed container causes a reduction firing in which the smoke enters the clay and glazes, causing a chemical change in the glazes and blackening of the bare clay. The waxed areas become blackened. After 5 minutes the pottery piece is pulled from the reduction container and dipped in cold water causing some checking and very individual, one of a kind results.
Having completed a series of Raku fired vases that reflected various bird and nature scenes. Steve's creations have moved on to incorporating wooden knot holes.  For years he has been collecting interesting pieces of wood, many being knot holes from old dead maples trees on his mountains. These knot holes or fushianas suggested a variety of images, so they inspired the Raku fired clay images that were inserted into the cavity. Nature has offered the image  suggestion and the exciting part is creating it into a finished conclusion, as you can see in the collection of his body of artwork.